World Polio Day 24th Oct 2018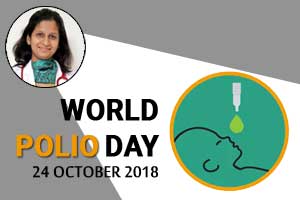 World Polio Day on 24th October was established by Rotary International over a decade ago to commemorate the birth of Jonas Salk, who led the first team to develop a vaccine against poliomyelitis. After an uphill battle and multiple doses of oral polio vaccine, India was declared polio-free (wild poliovirus) in March 2014. This was a huge accomplishment considering India was considered one of the most challenging countries for the same. The battle against polio is in the end stages now. Even though we are free from wild poliovirus there is a small risk of vaccine-derived polio.
Another important step which the government has taken is to start using the inactivated (injectable) polio vaccine (IPV) in its routine schedule. IPV is being used by private practitioners and corporate hospitals since many years but now it can have widespread reach with the government adopting it in its routine immunization schedule. IPV protects against polio without any risk of vaccine-derived polio. As wild poliovirus is eliminated, OPV needs to be phased out. The government has already removed type 2 containing OPV (the trivalent OPV to bivalent OPV switch). The reason being the type 2 component contained in trivalent OPV accounts for more than 90% of all Vaccine-derived poliovirus cases (bivalent OPV does not contain type 2).
Recently there has been a controversy regarding polio vaccine contamination. Some of the reports were highly exaggerated. This has caused doubts regarding polio vaccination among many people. It was picked up in UP in some sewage and stool samples due to very strong polio surveillance in India. This presence of type 2 polio in sewage sample meant that type 2 polio was being used in some vaccine. The government took immediate action and all authorities were alerted to stop the use of that polio brand, not only in UP but in the whole country. The surveillance has been further strengthened after that. Type 2 polio was also being used for pulse polio till April 2016. The coverage for IPV of eligible children is very good in India. So the immunity of the population against type 2 polio is very strong and an unlikely event of the spread of type 2 poliovirus can hardly cause any harm.
In order to successfully eradicate polio, parents should give their child regular immunization of OPV and IPV and they should also continue to give the vaccine during the government polio drives. Both vaccines, IPV and OPV are very safe and their use should be continued.
Dr Preeti Sharma, Pediatrician, MBBS, MD (Ped), Consultant Pediatrician & Neonatologist at KIMS Cuddles.