World Osteoporosis Day- Don't miss Spine Fractures says IOF
The message of
The International Osteoporosis Foundation (IOF)
on World Osteoporosis Day on
October 20th
is loud and clear
"Love Your Bones" and Don't Miss the Signs of Spinal Fractures.
It has urged people to be on the alert for three signs of possible spine fractures:
sudden, severe back pain; height loss of more than three centimetres; or stooped back.
Together with its 240-member organizations worldwide, IOF calls on health care professionals to address the under-reporting and under-treatment of spine fractures.
Osteoporosis is a disease which leads to weakness and fragility of bones and is the cause of fracture of bones in approximately one in three women and one in five men aged over 50 worldwide.
Spine fractures are the most common osteoporotic fractures - with one new fracture estimated to occur every 22 seconds worldwide. They are a major cause of pain, disability and loss of quality of life. Up to 70% of spine fractures remain undiagnosed, leaving sufferers unprotected against the high risk of more fractures. Back pain, height-loss and stooped back are all possible signs of spine fractures.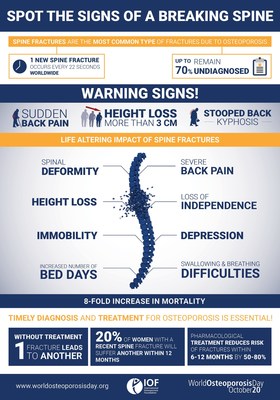 Courtesy IOF
The IOF has urged people globally for osteoporosis prevention. Spine fractures often remain unidentified, and therefore osteoporosis, the underlying disease, remains untreated.
IOF President, Professor
Cyrus Cooper
, stated: "Patients with sudden back pain are often simply prescribed painkillers and not properly assessed and treated for the underlying cause. Yet without preventive treatment, one spine fracture can initiate a cascade of more broken bones, which in turn lead to long-term pain and disability."
Professor Cooper added: "We advise radiologists who routinely perform X-rays to be on the lookout for vertebral fractures and to correctly report these as 'fractures'. Physicians too must do their part to ensure that once identified, patients benefit from appropriate treatment and management strategies, before further damaging and life-threatening fractures occur.
IOF has also called for the implementation of Fracture Liaison Services in hospitals worldwide - a critical step forward in reducing the human and economic costs of fragility fractures.
Source : Press Release