World Heart Month Special: Lifestyle Interventions and the Heart Matters!!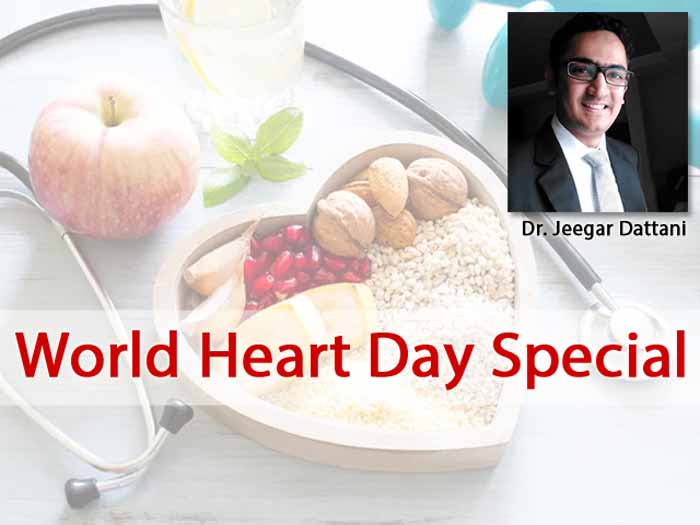 Heart, and everything related to it has fascinated us, at various stages of our lives.
As a medical student the cardiac cycle was elusive, ECGs intricate and specialization in cardiovascular medicine highly aspirational.
Advancements in coronary imaging – FFR, iFr, OCT, IVUS, and structural heart interventions have continued to garner laurels, making cardiology the most prestigious and glamorous stream of medicine.
As a lifestyle medicine enthusiast, am attempting to put forth evidence-based lifestyle interventions which may excite physicians to enlighten their patients with more conviction in an endeavor to render our society with healthy hearts.
Though the positive and negative influences of most of these interventions and risk factors are known, the idea is emphasizing on quantifying the strength of evidence behind them.
Smoking
Smoking increases the risk of heart attack by two times, stroke by three times, angina by 20 times and peripheral artery disease by five times. Smoking reduces life expectancy by approximately 13.9 years. Smoking cessation may improve life expectancy by up to 2.8 years
Diet
Based on the PURE study conducted across 18 countries, results of which are published in Lancet, indicated that high carbohydrate intake (more than about 60% of energy) was associated with an adverse impact on total mortality and non-cardiovascular disease mortality
Salt – The extra pinch which will hurt
A study conducted to identify the dietary salt patterns of among Indian patients diagnosed with hypertension and dyslipidemia found that the mean total daily salt consumption was 10.9 grams. The mean daily salt consumption in North India was 14.13 grams followed by 9.81, 10.12 and 9.38 grams across East, West and South regions of the country, respectively. Conversely, a salt intake of less than 1.5 grams/day may reduce systolic blood pressure by about 5 mm Hg
Physical Activity
Aerobic exercises for about 90–150 min/week could reduce systolic blood pressure by about 8 mm Hg. Dynamic resistance exercises for a similar duration could reduce systolic blood pressure by about 5 mm Hg. Running more than 7 miles (about 11 kms) per week seems to be having favourable effect on lipid profile in terms of reducing triglycerides and increasing HDL-C.
Weight Loss
5 to 10 % weight loss may lead to the following benefits on cardiovascular risk factors:


HDL cholesterol increase by 5 mg/dl


Triglycerides decrease by an average of 40 mg/dl


Decrease in SBP and DBP by an average of 5 mm Hg


Decrease in HbA1c by about 0.5 %


Medical Treatment & Lifestyle Interventions – Synergistic Benefits
Based on a review published in an eminent American Cardiology Journal, primary prevention of CVD events in patients with T2DM could be reduced by 21% with statins, by 11% with maintaining a target SBP <140 mm Hg, 29% by nutrition and 53% when lifestyle and medical treatment are combined.
Another editorial review published in a leading Indian cardiovascular medicine journal summarises lifestyle intervention as the only therapy with evidence of impacting prolongation of life across the cardiovascular continuum – primordial prevention, primary prevention, stable CAD, unstable CAD and Chronic Heart Failure (CHF).
May our hearts be plugged with harmony and happiness, rather than atherosclerotic plaques. Happy World Heart Day – yet another day for us to recall that we are patrons of healthcare and not just disease care.
References
Adapted from
1. https://www.heartfoundation.org.au/your-heart/know-your-risks/smoking-and-your-heart
2. Peter F. Kokkinos et al, Miles Run per Week and High-Density Lipoprotein Cholesterol Levels in Healthy, Middle-aged Men A Dose-Response Relationship, Arch Intern Med. 1995;155:415-420
3. Nadia B. Pietrzykowska, Percent Weight-loss, Obesity Action, URL https://www.obesityaction.org/wp-content/uploads/Benefits-of-5-10-Percet-Weight-loss.pdf
4. Jonathan D. Newman et al, Primary Prevention of Cardiovascular Disease in Diabetes Mellitus, Am Coll Cardiol 2017;70:883–93
5. Paul Whelton et al, 2017 Guideline for the Prevention, Detection, Evaluation, and Management of High Blood Pressure in Adults, Hypertension 2018 Jun;71(6):1269-1324
6. Mahshid Dehghan et al, Associations of fats and carbohydrate intake with cardiovascular disease and mortality in 18 countries from five continents (PURE): a prospective cohort study, Lancet 2017; 390: 2050–62
7. Dayanand Kumbla et al, A Study of salt and fat Consumption pattern in Regional Indian diet among hypertensive and dyslipidemic PaTients - SCRIPT study, JAPI 2016;64:47-54
8. Sundeep Mishra, Editorial Review, Does modern medicine increase life-expectancy: Quest for the Moon Rabbit?, Indian Heart Journal 2016;68:19-27
Dr Jeegar P Dattani is a guest columnist with Medical Dialogues and specializes in health communications and training. His areas of interest include Evidence-Based Lifestyle Interventions and Latest Innovative Medical Updates.