World Diabetes Day Special: Interesting Chronicles in Diabetes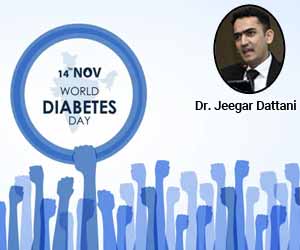 Understanding Diabetes – We have come a long way!!
From earliest descriptions about a disease known to causing 'too great emptying of urine' in Egyptian manuscripts dating back to 1500 B.C, to breakthroughs with CGMS and its variations, highly engineered insulins and oral therapies with evidence of improving cardiovascular outcomes in Diabetes – we certainly have evolved and taken huge strides in the educational journey of Diabetes.
On occasion of World Diabetes Day, let us hold on a moment and look back at some special instances along this expedition – the learnings go far beyond glucose, glycaemic targets and armamentarium; they bring out notable gestures when clinicians showcased admirable grit – in clinical acumen, perseverance and exemplary humanity
A. The Value of Bedside Clinical Medicine
The antiquity of early descriptions of diabetes underscores the importance of the observation and recording of medical conditions as humans evolve. Early physicians used whatever was in their capacity (smell or listen or feel) in pursuit of knowledge, skills, and diagnosis.
B. Age is just a number – Young or Old
The Genius of Langerhans at the age of 22
Paul Langerhans, was a 22-year-old student from Germany when he wrote a thesis identifying the cells that were later known to be the source of insulin production.
Jean Sterne gave Metformin to the World at the age of 50
Jean Sterne trained in medicine from Paris and gained experience in diabetology, along with seeking specialisations in infectious diseases, cardiology, psychiatry and neurology. During the Second World War, he was a battalion medic; taken prisoner, escaped to Morocco where he worked as a musician, and later returned to France to assist in the liberation of Toulouse. After several years of being back in Morocco, directing the medicine unit at a hospital in Casablanca, Sterne took a position with Aron Laboratories in Suresnes, Paris. Here, he investigated guanidine derivatives with his team. The rest, as they say, is history.
C. Being Truthful and Recognising Team Efforts
Despite accounts of the acrimonious 'team' interactions building up to and following the ground breaking discovery of insulin, the acknowledgement of fellow professionals is illustrated in Banting and Macleod's (Noble laureates) recognition of Best and Collip's immense contributions by sharing their Noble prize money with them.
D. The Golden Page of Generosity in the History of Medicine
The refusal to patent insulin but to share this miraculous therapy freely with the world will remain an outstanding example of unreserved generosity towards mankind in the history of medical disease. Banting's colossal contribution has been globally recognised by the declaration, since 2007, of his birthday (14th November) as World Diabetes Day.
Jean Sterne, the great physician who first published clinical use of metformin to treat diabetes in 1957, said in one of his last interviews, "When I look back on my life, I definitely can say that I've served a purpose on Earth" Indeed he did, and what an inspiration for the succeeding generation he remains.
Happy World Diabetes Day!! Cheers!!
References
Adapted from:
1. Clifford J. Bailey, Metformin: historical overview, Diabetologia DOI 10.1007/s00125-017-4318-z
2. Ritu Lakhtakia, The History of Diabetes Mellitus, Sultan Qaboos University Med Journal 2013;13(13):368-370
Dr Jeegar P Dattani is a guest columnist with Medical Dialogues and specializes in health communications and training. His areas of interest include Evidence-Based Lifestyle Interventions and Latest Innovative Medical Updates.