Understanding Alzheimer's Disease with Dr M. Jayasree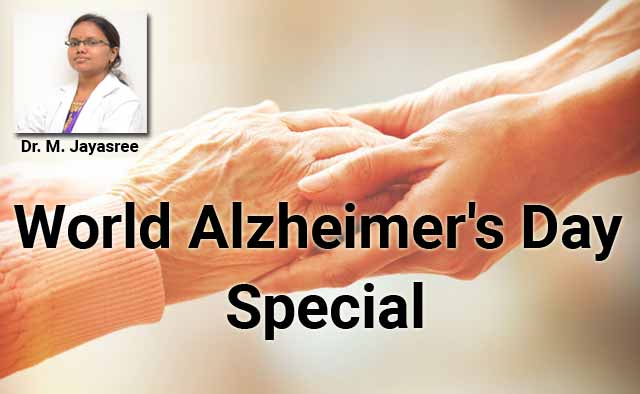 Alzheimer's disease is the most common and important degenerative disease of the brain which has an immense social impact. It is most common in people 60 years and older. Incidence is almost similar throughout the world, a staggering 125 new cases per 100,000 in >60 years older population. The familial occurrence of Alzheimer's disease has been well established and it is described in the younger population.
Risk Factors :
Birth order, maternal age, family history of downs syndrome. Depression, head injuries and lower educational attainment seem to confer somewhat increased risk later in life.
Clinical Features :
The gradual development of memory loss is a major symptom. Small day to day happenings is not remembered. They forget appointments and things are frequently misplaced. Questions are repeated again and again. Later they develop difficulty in speaking. There is a tendency to repeat the question before answering it. After many years of illness, there is a failure to speak in full sentences. They develop similar difficulty in the calculation. They make mistakes maintaining bank accounts, figuring the price of items and making correct change; these and others progress to a point where they can no longer carry out simple calculations.
Some patients develop difficulty in finding ways or describing a route from one place to another. Some can have difficulty dressing. Late in the course, the patient forgets the use of common objects and tools. Psychiatric disturbances like phobias, anxieties, delusions, and hallucinations can develop. The patient may suspect his elderly wife of having an illicit relationship or his children of stealing his possessions. They can become more egocentric and indifferent to feelings of others. Features of parkinsonism can be seen in advanced stages of the disease. The course of the disease is variable but usually extends over a period of 5 years or more.
Diagnosis :
Studies with CT and MRI are useful but not definitive. Studies of cerebral blood flow (single-photon emission computed tomography [SPECT]) and metabolism (positron emission tomography [PET]) may show diminished activity in the parietal and medial temporal lobes in early stages of the disease. Newer PET ligand agents that bind to amyloid and tau-ligands are more sensitive in identifying the course of disease.
Treatment :
Acetylcholinesterase inhibitors such as Donepezil have shown slight prolongation of patients ability to maintain an independent life. NMDA antagonists such as memantine have been approved for use in late-stage Alzheimer's disease. A responsible member of the family should be informed about the prognosis and assisted in the initiation of social and support services. Patients should be spared responsibility and guarded against injury from such as leaving a stove turned on, or driving and getting lost. Plans for occupational retirement should be carried out. In advanced stages of the disease, a skilled nursing facility or supervised home care should be arranged.
Dr. M. Jayasree is a Consultant Neurologist at KIMS Hospitals, Secunderabad.