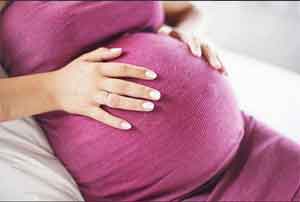 A new study published in the journal Neurology has found that pregnancy history of a woman can impact their risk of developing Alzheimer's disease (AD) decades later. The study has found that grand multiparous women who experienced 5 or more completed pregnancies have a higher risk of AD, whereas women who have experienced incomplete pregnancy, either through miscarriage or abortion are at less risk of developing AD.
Ki Woong Kim, Seoul National University in Seoul, South Korea, and colleagues conducted the study to investigate the effects of completed pregnancy with childbirth and incomplete pregnancy without childbirth on the late-life cognition and the risk of Alzheimer disease in women.
"Estrogen levels double by the eighth week of pregnancy before climbing to up to 40 times the normal peak level," said study author Ki Woong Kim. "If these results are confirmed in other populations, it is possible that these findings could lead to the development of hormone-based preventive strategies for Alzheimer's disease based on the hormonal changes in the first trimester of pregnancy."
Read Also: Roots of Alzheimer's disease can extend as far back as the womb
The researchers pooled data of 3,549 women provided by 2 population-based cohort studies and conducted logistic regression analyses to examine retrospectively the associations of completed and incomplete pregnancy with the risks of mild cognitive impairment and AD. For women without dementia, analyses of covariance to examine the associations of completed and incomplete pregnancy with Mini-Mental State Examination (MMSE) score was conducted to test their memory and thinking skills to see whether they had developed Alzheimer's disease or its precursor, mild cognitive impairment.
Key Findings:
A total of 118 women developed Alzheimer's disease and 896 women developed mild cognitive impairment.
Grand multiparous women who experienced ≥5 completed pregnancies showed a 1.7-fold higher risk of AD than those who experienced 1 to 4 completed pregnancies.
 Those who had incomplete pregnancies showed half the level of AD risk compared with those who never experienced an incomplete pregnancy.
On the tests of memory and thinking skills, women who had five or more children had lower scores than women who had fewer children.
Women who had one or more incomplete pregnancies had higher test scores than women with no incomplete pregnancies, regardless of how many children they had.
"It's possible that the modestly raised levels of estrogen in the first trimester of pregnancy are within the optimal range for protecting thinking skills," Kim said.
"Grand multiparity was associated with high risk of AD, while incomplete pregnancy was associated with low risk of AD in late life," concluded the authors.

For further information log on to https://doi.org/10.1212/WNL.0000000000006000