................................ Advertisement ................................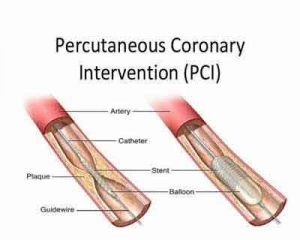 Delhi: Sex may impact patient outcomes after percutaneous coronary intervention (PCI), a recent study published in the JAMA Cardiology journal has found. According to a subgroup analysis of the GLOBAL LEADERS trial, the women experienced a higher risk of bleeding and hemorrhagic stroke as compared with men regardless of their assigned antiplatelet regime. However, the risk of death and Q-wave myocardial infarction did not differ between the sexes at two years.
PCI is a non-surgical procedure used to open up blood vessels in the heart narrowed by the buildup of plaques, a condition known as atherosclerosis. It involves the use of a catheter (a thin flexible tube) to place a small structure called stent to open up blood vessels. The procedure is known to improve blood flow, thus decreasing heart-related chest pain (angina).
Prior studies have indicated that women have worse ischemic outcomes and more bleeding after PCI compared with men. Ply Chichareon, University of Amsterdam, Amsterdam, the Netherlands, and colleagues assessed the association of sex with patient outcomes at 2 years after contemporary PCI and with the efficacy and safety of 2 antiplatelet strategies.
................................ Advertisement ................................
The study prespecified subgroup analysis of the investigator-initiated, prospective, randomized GLOBAL LEADERS study evaluating 2 strategies of antiplatelet therapy after PCI in an unselected population including 130 secondary/tertiary care hospitals in different countries. The main study involved 15 991 unselected patients undergoing PCI between July 2013 and November 2015. Of the 15,968 patients included in the analysis, 23.3% were women.
................................ Advertisement ................................
Eligible patients were randomized to either the experimental or reference antiplatelet strategy. Experimental strategy consisted of 1 month of dual antiplatelet therapy (DAPT) followed by 23 months of ticagrelor monotherapy, while the reference strategy comprised of 12 months of DAPT followed by 12 months of aspirin monotherapy.
 The primary efficacy endpoint was the composite of all-cause mortality and new Q-wave myocardial infarction at 2 years. The secondary safety endpoint was Bleeding Academic Research Consortium type 3 or 5 bleeding.
Read Also: Ticagrelor monotherapy after 1 month of DAPT good enough after multivessel PCI: JACC
................................ Advertisement ................................
Key findings of the study include:
The risk of the primary endpoint at 2 years was similar between women and men (adjusted hazard ratio [HR], 1.00).
Compared with men, women had a higher risk of Bleeding Academic Research Consortium type 3 or 5 bleeding (adjusted HR, 1.32) and hemorrhagic stroke at 2 years (adjusted HR, 4.76).
At 2 years, there was no between-sex difference in the efficacy and safety of the 2 antiplatelet strategies.
At 1 year, compared with DAPT, ticagrelor monotherapy was associated with a lower risk of bleeding in men (HR, 0.72) but not in women (HR, 1.23).
Read Also: Everolimus-eluting Stent with 4 months DAPT effective and safe after PCI in uLMCA: IDEAL-LM trial
The clinical message "is that when you prescribe antiplatelet treatment to women you can expect more bleeding, so as a physician I will be certainly paying attention to that," senior author Patrick Serruys, Imperial College London, England, told TCTMD. "For that reason, I would certainly look carefully to the body mass index and this kind of thing to see if there is a way . . . to maintain the anti-ischemic effect without increasing the bleeding risk."
Having said that, "it's not easy to tailor anything in the field. You give or you don't give the pills," he said, suggesting that using a lower dose of ticagrelor, for instance, might be a solution. "But beyond that, you just have to warn the women that they are more prone to bleeding than men and as a physician be more careful about that."
"Compared with men, women experienced a higher risk of bleeding and hemorrhagic stroke after PCI. The effect of 2 antiplatelet strategies on death and Q-wave myocardial infarction following PCI did not differ between the sexes at 2 years.," concluded the authors.
More Information: "Association of Sex With Outcomes in Patients Undergoing Percutaneous Coronary Intervention A Subgroup Analysis of the GLOBAL LEADERS Randomized Clinical Trial" published in the JAMA Cardiology journal. 
DOI: https://doi.org/10.1001/jamacardio.2019.4296
Journal Information: JAMA Cardiology
Author Details
Medha Baranwal joined Medical Dialogues as an Editor in 2018 for Speciality Medical Dialogues. She covers several medical specialties including Cardiac Sciences, Dentistry, Diabetes and Endo, Diagnostics, ENT, Gastroenterology, Neurosciences, and Radiology. She has completed her Bachelors in Biomedical Sciences from DU and then pursued Masters in Biotechnology from Amity University. She has a working experience of 5 years in the field of medical research writing, scientific writing, content writing, and content management. She can be contacted at medha@medicaldialogues.in. Contact no. 011-43720751
To know about our editorial team click here
................................ Advertisement ................................