Why patients of Acute Heart Attack delay in Seeking Treatment: Indian Heart Journal Study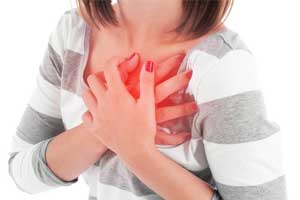 Women have a significantly high tendency to overlook heart attack symptoms, a study conducted at the Coimbatore medical college recently revealed. The results of study conducted which focuses on finding reasons on what factors influence the delay in seeking treatment amoungst MI patients was published in the Indian heart journal.
Delayed treatment seeking tendency in AMI patients was a result of lack of awareness, decreased symptom perception and social support: the investigational study including 93 patients diagnosed with Acute Myocardial Infarction revealed. This tendency was found to be significantly high in females in comparison to males.
Heart attacks are the most common cause of deaths among people especially in Inda which has been tagged as the capital of diabetes and heart attacks of the world. The recent estimates indicate that India will soon become the country having the highest numbers of heart disease cases. This increased number of heart disease eventually leading to heart attack might have resulted from negligence, lack of knowledge and social discrimination.
The main objective of the study was to explore factors leading to delay in seeking treatment among adult patients diagnosed with AMI and compare the factors between timely and late treatment seeking groups.
The study included a total of 93 (81 males and 12 female), patients diagnosed with AMI who were interviewed within 48 hours of hospitalization. Data were from onset of the symptoms to arrival at the hospital on demography, clinical profile, clinical factors, cognitive factors and social support factors. The subjects were divided into two groups i.e., timely treatment seeking groups (less than 2 mins from the onset of the symptoms) and delayed treatment seeking group (more than 2 min from the onset of the symptom).
The results of the study indicated that the minimum time taken by the patients to seek treatment was within 10 min and the maximum time was 5 hours and 45 mins. Another important aspect of the result was the mean pain score of subjects who sought delayed treatment was less than the mean pain score of the subjects who sought immediate treatment. the mean knowledge score, mean symptom perception score and mean perceived seriousness scores were more in patients who sought for timely treatment. Similarly, the mean family support score, mean non-family support score and mean social support scores were more among these patients.
Key findings of the study:


40% of the males and 83.33% of the female subjects sought delayed treatment which is quite an alarming situation.


Education and occupation don't seem to have any influence on treatment-seeking behaviour.


Out of 93 patients, 55% did not receive non-family support at all. this shows how much self-centred society has become.


There was a significant difference between the pain scores of the patients seeking timely treatment and delay treatment.


To read more about this article please click on the link below