................................ Advertisement ................................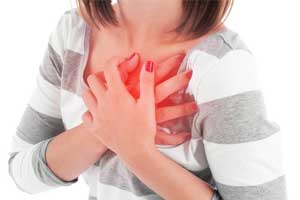 Delhi: Women are at higher risk of developing new-onset heart failure (HF) after STEMI and also have poor survival than their male counterparts, a recent study published in the Journal of the American College of Cardiology. Therefore, de novo heart failure is a key feature to explain the mortality gap after STEMI among men and women.
The study further found that women after STEMI are more likely to be on guideline-directed medical therapy than men.
Mayo Clinic defines ST-Elevation Myocardial Infarction (STEMI) as a very serious type of heart attack during which one of the heart's major arteries (one of the arteries that supplies oxygen and nutrient-rich blood to the heart muscle) is blocked.
................................ Advertisement ................................
STEMI complicated by symptoms of acute de novo heart failure is associated with excess mortality. Whether the development of heart failure and its outcomes differ by sex is unknown.
Edina Cenko, University of Bologna, Bologna, Italy, and colleagues sought to examine the relationships among sex, acute heart failure, and related outcomes after STEMI in patients with no prior history of heart failure recorded at baseline.
................................ Advertisement ................................
For the study, the researchers analyzed data on 10,443 patients (30% women) from the international ISACS-TC hospital registry that included patients from 12 European countries. Compared with men, women were older and more likely to have a family history of CAD, prior angina, diabetes, and hypertension. Men were more often smokers and had more prior history of MI and CABG, as well as higher baseline serum creatinine.
Main outcome measures were the incidence of Killip class ≥II at hospital presentation and risk-adjusted 30-day mortality rates were estimated using the inverse probability of weighting and logistic regression models.
Key findings of the study include:
................................ Advertisement ................................
After covariate adjustment and matching for age, cardiovascular risk factors, comorbidities, disease severity, and delay to hospital presentation, the incidence of de novo heart failure at hospital presentation was significantly higher for women than for men (25.1% vs. 20.0%).
Women with de novo heart failure had higher 30-day mortality than did their male counterparts (25.1% vs. 20.6%).
The sex-related difference in mortality rates was still apparent in patients with de novo heart failure undergoing reperfusion therapy after hospital presentation (21.3% vs. 15.7%).
According to the authors, the findings highlight the importance of studying sex as a biological variable and reinforce the need for enrollment of more women in clinical research studies and to power such studies to allow for appropriate sex-specific analysis.
More Information: "Sex-Related Differences in Heart Failure After ST-Segment Elevation Myocardial Infarction" published in the Journal of the American College of Cardiology.
DOI: 10.1016/j.jacc.2019.08.1047
Journal Information: Journal of the American College of Cardiology
Author Details
Medha Baranwal joined Medical Dialogues as an Editor in 2018 for Speciality Medical Dialogues. She covers several medical specialties including Cardiac Sciences, Dentistry, Diabetes and Endo, Diagnostics, ENT, Gastroenterology, Neurosciences, and Radiology. She has completed her Bachelors in Biomedical Sciences from DU and then pursued Masters in Biotechnology from Amity University. She has a working experience of 5 years in the field of medical research writing, scientific writing, content writing, and content management. She can be contacted at medha@medicaldialogues.in. Contact no. 011-43720751
To know about our editorial team click here
................................ Advertisement ................................