Women 5 times more susceptible to Non-obstructive heart attack than men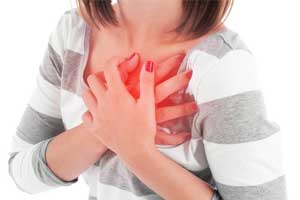 Women are five times more susceptible to heart attack /myocardial infarction with non-obstructive coronary arteries (MINOCA) than men, finds a new study published in the Journal of the American Heart Association. The study also found that clinical outcomes of the young patients with MINOCA were similar to those of myocardial infarction due to coronary artery disease (MI-CAD) patients.
These non-obstructive heart attacks also were twice as common in non-white patients than in white ones. And also, the people with non-obstructive heart attacks have a similar risk of death within the next year as those with the more common type, the study found. Yet, MINOCA patients were less likely to be referred to cardiac rehabilitation, even though some research suggests they could benefit.
Basmah Safdar, Associate Professor, Emergency Medicine, Yale University, and colleagues compared the clinical characteristics and outcomes of young patients with MINOCA versus obstructive disease (MI-CAD) and among patients with MINOCA by sex and subtype.
MINOCA is clinically defined by the presence of the universal acute myocardial infarction (AMI) criteria, an absence of obstructive coronary artery disease, and no overt cause for the clinical presentation at the time of angiography.
MINOCA is an umbrella term for a mysterious category of heart attacks that has befuddled experts until recently, said Safdar.
"For a long time, patients with MINOCA were completely disregarded because the prior literature showed they didn't have a higher risk of death or recurrent heart attacks, and so they just were not studied," he added.
Also Read: Myocardial Infarction with Non-Obstructive Coronary Arteries (MINOCA) as per Guidelines
For the study. the researchers examined data on 2,690 heart attack patients between the ages of 18 and 55. The information, from 2008 to 2012, was collected from 103 hospitals nationwide.
Non-obstructive heart attacks generally account for 6 percent to 14 percent of all heart attacks. They made up 11 percent of those analyzed in the study.
Key Findings:


Women had 5 times higher odds of having

MINOCA

than men (14.9% versus 3.5%).



MINOCA

patients were more likely to be without traditional cardiac risk factors (8.7% versus 1.3%) but more predisposed to hypercoaguable states than

MI

‐CAD patients (3.0% versus 1.3%).


Women with

MI

‐

CAD

were more likely than those with

MINOCA

to be menopausal (55.2% versus 41.2%) or to have a history of gestational diabetes mellitus (16.8% versus 11.0%).


The

MINOCA

mechanisms varied: a nonplaque mechanism was identified for 75 patients (25.1%), and their clinical profiles and management also varied.


One‐ and 12‐month mortality with

MINOCA

and

MI

‐

CAD

was similar (1‐month: 1.1% and 1.7%; 12‐month: 0.6% and 2.3% respectively), as was adjusted 12‐month

SAQ

quality of life (76.5 versus 73.5, respectively).


MINOCA patients were less likely to smoke or have other traditional risk factors for cardiac diseases, such as diabetes or high blood pressure. However, they were more susceptible to having blood clotting problems than patients whose heart attacks stemmed from artery obstructions.
The majority of MINOCA patients had "undefined" causes for their events, but specific reasons were identified for a quarter of cases. The most common one was a tear in the coronary artery wall, a condition in which blood pools between the inner and outer layers of the artery; this trapped blood can form a blood clot, slowing or even stopping blood flow to the heart. Another cause leading to MINOCA was a coronary artery spasm or a sudden tightening and narrowing of arteries in the heart.
Safdar hopes her study makes doctors more aware that non-obstructive heart attack patients require more caution than previously believed.
"Young patients with MINOCA were more likely women, had a heterogeneous mechanistic profile, and had clinical outcomes that were comparable to those of MI‐CAD patients," concluded the authors.
For more information click on the link:
https://doi.org/10.1161/JAHA.118.009174