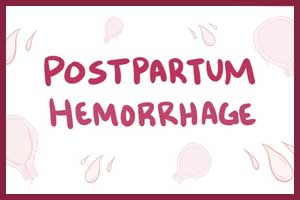 World health organisation, WHO has updated its 2012 guidance on the use of Uterotonics to help healthcare workers prevent postpartum haemorrhage. This has incorporated new evidence, published in 2018, that assessed the safety and efficacy of seven uterotonics for the prevention of postpartum haemorrhage.
Uterotonics are drug formulations that help to prevent and treat postpartum haemorrhage. They do this by increasing tonicity of and contractions in the uterus which in turn helps to reduce blood loss during childbirth.
Every year about 14 million women around the world suffer from postpartum haemorrhage. This severe bleeding after birth is the largest direct cause of maternal deaths. In addition to the suffering and loss of women's lives, when women die in childbirth, their babies also face a much greater risk of dying within one month compared to babies whose mothers survive.
New WHO recommendations
Following the publication of this evidence, WHO has now updated its 2012 guidance on the prevention of postpartum haemorrhage with four new recommendations on seven uterotonics.
The newly updated recommendations aim to improve the quality of care and health outcomes for women giving birth. The first recommendation is related to the efficacy and safety of uterotonics for the prevention of PPH, and it includes six sub-recommendations. The other three recommendations are related to the choice of uterotonics for PPH prevention.
What the new recommendations say
Anyone of the following uterotonics can be used for the prevention of PPH: oxytocin, carbetocin, ergometrine/methylergometrine, oxytocin and ergometrine fixed-dose combination and misoprostol.
In settings where multiple uterotonic options are available, oxytocin (10 IU, IM/IV) is the recommended uterotonic agent for the prevention of PPH for all births.
In settings where oxytocin is not available, or its quality cannot be guaranteed, the use of carbetocin, or if appropriate ergometrine/methylergometrine, or oxytocin and ergometrine fixed-dose combination, or oral misoprostol is recommended.
Where the quality of oxytocin is considered compromised due to inadequate cold-chain transport and storage conditions, heat-sensitive uterotonic agents such as ergometrine/methylergometrine or oxytocin and ergometrine fixed-dose combination, that have been transported and stored under similar conditions as the oxytocin, are not suitable options. In these situations, heat-stable uterotonic agents (carbetocin or misoprostol) are suitable options depending on the context.
All the uterotonics recommended for postpartum haemorrhage prevention can be used in women undergoing vaginal birth or caesarean section, and require, except for misoprostol, skilled health personnel trained to administer injectable uterotonics.