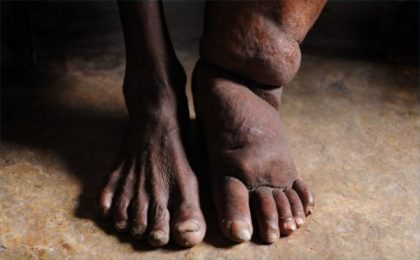 The World Health Organization (WHO) is recommending an alternative three drug treatment to accelerate the global elimination of lymphatic filariasis. It is a vector-borne neglected tropical disease that causes damage to the lymphatic system and can lead to lymphoedema (elephantiasis) and hydrocele in infected individuals. Recent studies have shown that single-dose combination therapy with three currently approved anti-filarial drugs (ivermectin, diethylcarbamazine (DEC), and albendazole, or IDA) is superior to current regimens used in lymphatic filariasis (LF) elimination programs. IDA may help to accelerate LF elimination in Africa, which has lagged behind other regions. Although it has not yet been tested, IDA may also be useful for treating onchocerciasis. There is a serious concern about using DEC in sub-Saharan Africa because of ocular adverse events after DEC treatment of onchocerciasis in the past.
The treatment, known as IDA, involves a combination of ivermectin, diethylcarbamazine citrate, and albendazole. It is being recommended annually in settings where its use is expected to have the greatest impact.IDA clears microfilaria more efficiently from the blood than the two-drug regimen and is equally safe.
In large randomized community studies conducted in four countries, it was found that IDA is as safe as the two-drug regimens when used during MDA. The specifics of the new recommendations are published in WHO's new guideline
Up to 24 countries currently using diethylcarbamazine citrate plus albendazole could benefit from IDA, and its use will be particularly helpful to endemic countries that have not yet started MDA in all endemic districts.Significant progress towards global elimination of lymphatic filariasis as a public health problem has already been made with the existing regimens.
Of the 72 countries endemic to lymphatic filariasis, 20 have been able to reduce levels of infection below elimination thresholds and stop MDA. Furthermore, WHO has already validated ten countries2 as having eliminated lymphatic filariasis as a public health problem.At least 856 million people are living in areas where filarial infections are still transmitted; up to 514 million people are living in areas that could benefit from IDA, providing a potential fast-track and low-cost option to accelerate elimination.