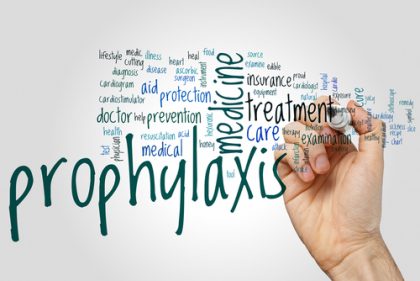 Post-exposure prophylaxis means the treatment of a bite victim that is started immediately after exposure to rabies in order to prevent rabies from entering the central nervous system and it consists of local treatment of the wound, followed by vaccine therapy (with or without rabies immunoglobulin) should be initiated immediately with contacts of categories II and III. Treatment may be discontinued if the animal involved (dog or cat) remains healthy throughout an observation period of 10 days; or if the animal is killed humanely and found to be negative for rabies by laboratory examination.
local treatment of the wound initiated as soon as possible after exposure;
a course of potent and effective rabies vaccine that meets WHO standards; and
the administration of rabies immunoglobulin, if indicated.
Local treatment of the wound
This involves first-aid of the wound that includes immediate and thorough flushing and washing of the wound for a minimum of 15 minutes with soap and water, detergent or other substances of proven lethal effect on rabies virus. People who live in rabies-infected areas should be educated in simple local wound treatment and warned not to use procedures that may further contaminate the wounds. If possible, suturing of wounds should be avoided; however, if suturing is necessary, anti-rabies immunoglobulin should be infiltrated around the wound.
Recommended PEP
Depending on the severity of the contact administering with the suspected rabid animal, administration of PEP is recommended as follows:
| | |
| --- | --- |
| CATEGORIES OF CONTACT WITH SUSPECT RABID ANIMAL | POST-EXPOSURE PROPHYLAXIS MEASURES |
| Category I – touching or feeding animals, licks on intact skin | None |
| Category II – nibbling of uncovered skin, minor scratches or abrasions without bleeding | Immediate vaccination and local treatment of the wound |
| Category III – single or multiple transdermal bites or scratches, licks on broken skin; contamination of mucous membrane with saliva from licks, contacts with bats. | Immediate vaccination and administration of rabies immunoglobulin; local treatment of the wound |
Depending on vaccine type, the post-exposure schedule prescribes intramuscular doses of 1 ml or 0.5 ml given as four to five doses over four weeks. For rabies-exposed patients who have previously undergone complete pre-exposure vaccination or post-exposure treatment with cell-derived rabies vaccines, two intramuscular doses of a cell-derived vaccine separated by three days are sufficient. Rabies immune globulin treatment is not necessary in such cases. The same rules apply to persons vaccinated against rabies who have demonstrated neutralizing antibody titres of at least 0.5 IU/ml.
Intramuscular schedules
One dose of the vaccine should be administered on days 0, 3, 7, 14 and 30. All intramuscular injections must be given into the deltoid region or, in small children, into the anterolateral area of the thigh muscle. The vaccine should never be administered in the gluteal region.
All category II and III exposures assessed as carrying a risk of developing rabies require PEP. This risk is increased if:
the biting mammal is a known rabies reservoir or vector species;
the animal looks sick or displays an abnormal behaviour;
a wound or mucous membrane was contaminated by the animal's saliva;
the bite was unprovoked; and
the animal has not been vaccinated.
Treatment should be started as early as possible after exposure, but in no case should it be denied to exposed persons whatever time interval has elapsed.