WHO Guideline on Mass drug administration regimens to eliminate Lymphatic Filariasis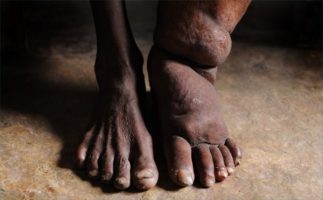 Lymphatic filariasis is a vector-borne neglected tropical disease that causes damage to the lymphatic system and can lead to lymphoedema (elephantiasis) and hydrocele in infected individuals. The global baseline estimate of persons affected by lymphatic filariasis is 25 million men with hydrocele and over 15 million people with lymphoedema. At least 36 million persons remain with these chronic disease manifestations. The disease is endemic in 72 countries.
Key facts


Lymphatic filariasis impairs the lymphatic system and can lead to the abnormal enlargement of body parts, causing pain, severe disability and social stigma.


856 million people in 52 countries worldwide remain threatened by lymphatic filariasis and require preventive chemotherapy to stop the spread of this parasitic infection.


In 2000 over 120 million people were infected, with about 40 million disfigured and incapacitated by the disease.


Lymphatic filariasis can be eliminated by stopping the spread of infection through preventive chemotherapy with safe medicine combinations, repeated annually for at least 5 years. 6.7 billion treatments have been delivered to stop the spread of infection since 2000.


499 million people no longer require preventive chemotherapy due to the successful implementation of WHO strategies.


A basic, recommended package of care can alleviate suffering and prevent further disability among persons living with disease caused by lymphatic filariasis.


In 2016, an estimated total population of 856 million were living in areas with ongoing transmission of the causative filarial parasites and requiring mass drug administration (MDA). Lymphatic filariasis disfigures and disables, and often leads to stigmatization and poverty. Hundreds of millions of dollars are lost annually due to reduced productivity of affected patients. WHO has ranked the disease as one of the world's leading causes of permanent and long-term disability.
This guideline serves as a response to countries that have requested WHO to devise alternative regimens to realign their national programmes towards elimination by 2020.
Source : Press Release