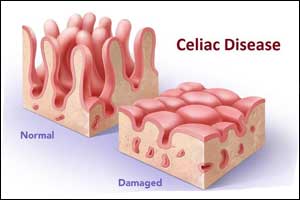 Dr.Daniel Karb, MD, and associates in a Large Population-Based Study  described the epidemiology of celiac disease and identified the potential target population and along with evaluated diseases associated with Celiac disease and eneumerated them.
Celiac disease is an autoimmune condition caused by the ingestion of gluten by genetically susceptible individuals. Previous epidemiological studies of celiac disease yield wide-ranging prevalence estimates (range ~0.2-2.0%), often diagnosed through serologic and/or histologic screening. We sought to describe the epidemiology of celiac disease and identify potential target population
The researchers  queried a commercial database (Explorys Inc, Cleveland, OH, USA), an aggregate of electronic health record data from 26 major integrated US healthcare systems. We identified a cohort of patients with celiac disease between April 2012 and April 2017, based on Systematized Nomenclature of Medicine—Clinical Terms (SNOMED-CT). From this cohort, we calculated the prevalence of celiac disease among different patient groups.
They found that of the 35,854,260 individuals in the database, there were 83,090 cases of celiac disease, with an overall age-adjusted prevalence of 221.4/100,000 persons (0.22%). Celiac disease prevalence was higher in females than males [odds ratio (OR) 2.40; 95% CI 2.36-2.43, p < 0.0001], whites versus non-whites (OR 2.25; 95% CI 2.20-2.30, p < 0.0001), and adults (≥18 years) versus children (< 18) (OR) 2.60; 95% CI 2.53-2.67, p < 0.0001). Celiac disease was also found to be strongly associated with other medical conditions, including: dermatitis herpetiformis (OR 4563.46; 95% CI 4422.50-4708.92, p < 0.0001), iron deficiency anemia (IDA) (OR 6.01; 95% CI 5.88-6.14, p < 0.0001), osteoporosis (OR 6.38; 95% CI 6.26-6.50, p < 0.0001), Type 1 diabetes (OR 15.95; 95% CI 15.63-16.27, p < 0.0001), eosinophilic esophagitis (EoE) (OR 8.79; 95% CI 8.01-9.64, p < 0.0001), Down syndrome (OR 8.07, 95% CI 7.35-8.85, p < 0.0001), liver disease (OR 7.14; 95% CI 7.02-7.25, p < 0.0001), pancreatitis (OR 24.97; 95% CI 24.50-25.45, p < 0.0001), and inflammatory bowel disease (OR 13.32; 95% CI 13.03-13.61).
Various diseases lnked with Celiac disease  are-
Migraine
Anxiety disorder
Arthritis
Dermatitis herpetiformis
Liver disease
Gastroesophageal reflux disease
Eosinophilic esophagitis
Atrophic gastritis
Glossitis
Pancreatitis
Disorder of the pancreas
Cerebellar ataxia
Autism
Colitis
Turner syndrome
Down syndrome
Common variable immunodeficiency
Based on this large population-based study to evaluate the prevalence and high-risk groups for celiac disease, the authors found that the estimated prevalence of celiac disease in the USA is 221.4/100,000 persons, which is lower than prior estimates. We were also able to identify strong associations between celiac disease and many other medical conditions, which could be targeted indications for celiac disease screening.
For further reference log on to :
Program No. P2447. World Congress of Gastroenterology at ACG2017 Meeting Abstracts. Orlando, FL: American College of Gastroenterology.