Weight loss surgery has long term benefits in sexual function and sexual satisfaction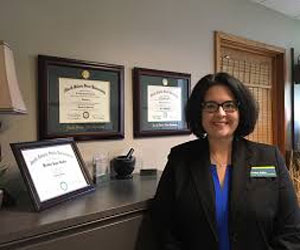 Weight loss surgery or Bariatric surgery for obesity has benefits in a variety of areas including metabolic diseases, lowering death rate and improving sexual function. A team of researchers has found the positive results of such surgery on sexual function and sexual satisfaction may be longer lasting than previously known. Results of the study are published in JAMA Surgery.
"Previously, it was not widely known what the longer-term impact of bariatric surgery may be on sexual function," said Steffen. "Our longitudinal study results completed with a larger cohort highlight that for a subset of patients who undergo such surgery, benefits may be longer lasting in specific areas of sexual function."
Approximately half of those participating in the research study reported the post-surgical improvements continued in their satisfaction with sexual life over five years.
As a professor of pharmaceutical sciences in the NDSU School of Pharmacy and director of biomedical sciences in the Center for Biobehavioral Research at Sanford Research, Steffen led the study.
After five years of post surgery, 50 percent of the 2,215 individuals participating in the study reported that their sexual function and satisfaction remained improved. This result applied to both men and women. For women in the study, more than one-third reported improvements in frequency of sexual desire (41%) and sexual activity (35%) five years after surgery. At least half of men experienced improvements in sexual activity, satisfaction, desire and frequency.
Before the bariatric surgery, 70 percent of females and 74 percent of males in the study were not satisfied with sexual function. A year after surgery, about 56 percent of women experienced improvements in satisfaction with their sexual life and by five years after surgery, this number remained at a similar 52 percent. A similar observation was reported in men, wherein improvement was present in about 50 percent of men at both post-surgical time points.
The type of bariatric surgery performed did not impact study results.
The study was conducted at 10 hospitals in six clinical centers in the U.S. among patients undergoing their first bariatric procedure from 2006 to 2009. Follow up continued through August 2014. Participants completed questionnaires before their procedures and annually after that to the five-year mark.
In addition, study results suggested that patients who experienced greater improvement in depression symptoms after surgery, also experienced greater improvement in several aspects of sexual functioning. This could be a future area of study, according to Steffen.
"These findings provide new evidence to reinforce and extend findings of previous, smaller studies examining sexual functioning in women and men after bariatric surgery which have collectively, although not uniformly, shown improvement in sexual functioning following bariatric surgery," concluded study authors.
Strengths of the study included its large sample size, 5-year duration of follow-up, and examination of comorbid factors associated with changes in sexual functioning. The study's limitations include: lack of a nonsurgical control group, nor did it randomize participants to surgery.
The study's authors also concluded: "Clinicians should assess patient satisfaction with sexual functioning before and after bariatric surgery. They should also consider interventions targeted to modifiable factors that may influence the likelihood of improvement."
For further reference log on to :
doi:10.1001/jamasurg.2018.1162