Weight loss can reverse atrial fibrillation in obese patients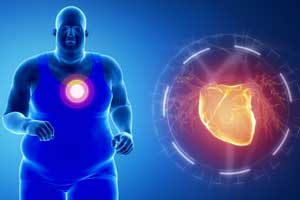 The obese people with atrial fibrillation can reverse or reduce the heart condition by losing weight, according to a new study published in the journal EP Europace. A 10% loss in weight along with management of associated risk factors was found to be associated with the reversal of the disease progression.
Melissa E Middeldorp, a researcher from the University of Adelaide's Centre for Heart Rhythm Disorders, and colleagues conducted the research to evaluate the impact of weight and risk factor management (RFM) on the progression of the AF.
Atrial fibrillation (AF), a disorder of the heart rhythm, is a leading cause of stroke and can lead to heart failure. Millions of people around the world are diagnosed with this condition every year. Chest pain, a 'racing' or unusual heartbeat and shortness of breath are all symptoms of AF.
A Long-Term Follow-Up (LEGACY) Study, of 1415 consecutive AF patients, 825 had body mass index ≥ 27 kg/m2 and were offered weight and RFM. After exclusion, 355 were included for analysis. Weight loss was categorized as: Group 1 (<3%), Group 2 (3–9%), and Group 3 (≥10%). Change in AF type was determined by clinical review and 7-day Holter yearly. Atrial fibrillation type was categorized as per the Heart Rhythm Society consensus.
Key Findings:


In Group 1, 41% progressed from paroxysmal to persistent and 26% from persistent to paroxysmal or no AF.


In Group 2, 32% progressed from paroxysmal to persistent and 49% reversed from persistent to paroxysmal or no AF.


In Group 3, 3% progressed to persistent and 88% reversed from persistent to paroxysmal or no AF.


Increased weight loss was significantly associated with greater AF freedom: 45 (39%) in Group 1, 69 (67%) in Group 2, and 116 (86%) in Group 3.


"This is the first time that evidence has been found that if people who are obese and are suffering from atrial fibrillation the disease can be alleviated by losing weight and treating lifestyle factors. AF is a progressive disease in which initial short, intermittent symptoms develop into more sustained forms of the condition. Obesity and lifestyle factors are associated with its progression," says Ms Middeldorp."
"The study showed that if obese people lose more than 10% of their weight and subsequent management of other risks to their lifestyle, they can reverse the progression of the disease. People who lost weight experienced fewer symptoms, required less treatment and had better outcomes. Those who previously had sustained symptoms experienced only intermittent symptoms or indeed stopped experiencing AF entirely" says Ms Middeldorp.
"Progression of the disease is shown to have a direct link with the degree of weight loss. Without weight loss, there is a progression of AF to more persistent forms of AF."
Based on the study, the authors concluded that obesity is associated with progression of the AF disease. This study demonstrates the dynamic relationship between weight/risk factors and AF. Weight-loss management and RFM reverses the type and natural progression of AF.
For further reference log on to
https://doi.org/10.1093/europace/euy117
Source : With inputs from EP Europace