Weight cycling not risky in women with suspected Angina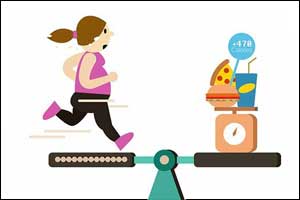 Weight cycling not risky in women with suspected Angina. Weight cycling refers to intentionally losing and gaining weight by repeatedly going on and off diets and few studies have raised concerns about weight cycling and its association with an increased risk of death.
A recent study conducted by Vera Bittner, M.D., a professor at the University of Alabama at Birmingham Division of Cardiovascular Disease, and colleagues has indicated that weight cycling is associated with a lower rate of adverse cardiovascular outcomes in women with suspected ischemia, such as stroke, heart attack, and heart failure. The study published in the Journal PLOS ONE.
Binge eating may also be linked to weight cycling or yo-yo dieting. Weight cycling may affect mental health too. But, adverse outcomes of weight cycling might not be as severe in the case of some women.
Using data from the NIH-funded Women's Ischemia Syndrome Evaluation study, Bittner and colleagues set out to determine in the WISE population whether weight cycling —defined as an intentional loss of at least 10 pounds at least three times — during a woman's lifetime was related to the composite outcome of all-cause death, cardiovascular death, nonfatal heart attack, non-fatal stroke and hospitalization for heart failure or the components of this composite outcome.
"Given prior studies that enrolled predominantly men, we thought we would find an adverse relationship; but we found the opposite," Bittner said.
Women who reported weight cycling compared to those who did not had different baseline characteristics. Still, even after adjusting for these differences in baseline characteristics and other variables known to be prognostic in the WISE cohort in a logistic regression model, researchers found weight cycling was associated with a lower risk of the combined outcome and a lower risk of cardiovascular death.
"It is important to remember, however, that the amount of weight lost and gained during weight cycling was not very large, and we do not know whether weight cycling with much larger shifts in weight would be free of harm," Bittner said.
The author added that the data suggest there may be a sex difference in the impact of weight cycling and that this should be explored in larger datasets and among less selected populations of women and men.
"It is important to remember that maintenance of normal weight throughout one's lifetime is the best option," she said. "However, once individuals gain weight, efforts at improving weight are important, and individuals should not be discouraged from trying again if they regain the weight."
To read more about this article please click on the link
https://doi.org/10.1371/journal.pone.0207223