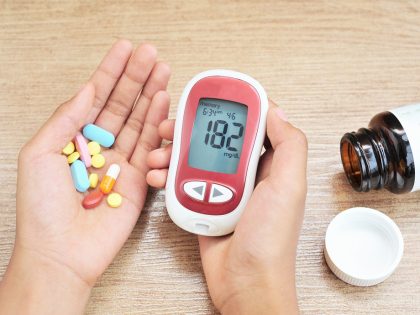 The risk of death among persons with type 2 diabetes due to  cardiovascular causes is up to four times that of the general population. Diabetes control is supposed to protect against the elevated risk of heart disease. But  in a randomized, double-blind, placebo-controlled, event-driven trial conducted on adults with type 2 diabetes at 687 sites in 35 countries ,it has been concluded that the diabetes drug exenatide does not lower the risk of major cardiovascular events compared to placebo and usual care,reports NEJM.
Rury R. Holman et al. assessed the long-term cardiovascular safety and efficacy of exenatide, administered once weekly, in patients with type 2 diabetes who had a wide range of cardiovascular risk in accordance with regulatory guidance, the Exenatide Study of Cardiovascular Event Lowering (EXSCEL)
In the trial ,adults with type 2 diabetes (defined as a glycated hemoglobin level of 6.5 to 10.0% [48 to 96 mmol per mole]) were enrolled for participation. The trial was designed such that approximately 70% of enrolled patients would have had previous cardiovascular events and 30% would not have had previous cardiovascular events. Patients were randomly assigned in a 1:1 ratio to receive subcutaneous injections of extended-release exenatide at a dose of 2 mg or matching placebo once weekly. All participants were allowed to use up to three oral glucose-lowering agents, two if they were taking insulin. The participants' median time since diabetes diagnosis was 12.0 years. Just over 96% of the volunteers completed the trial.
After a median follow-up of 3.2 years, incidence of the primary composite endpoint – myocardial infarction, stroke or death from cardiovascular causes – was 11.4% among the 7,356 recipients of exenatide, sold by Amylin Pharmaceuticals under the brand name Bydureon, and 12.2% for the 7,396 taking subcutaneous placebo injections (P=0.06 for superiority). In this pragmatic, multinational, cardiovascular outcomes trial, which was performed in a usual-care setting among patients with type 2 diabetes, with or without previous cardiovascular disease, the addition of once-weekly extended-release exenatide to usual care was compared with usual care alone for the management of diabetes and cardiovascular risk factors over a median of 3.2 years of follow-up; the results showed that exenatide was non inferior to placebo with respect to cardiovascular safety but was not superior to placebo with respect to efficacy
The researchers concluded  that once-weekly administration of extended-release exenatide in patients with type 2 diabetes at a wide range of cardiovascular risk appeared not to cause an increase in their overall cardiovascular risk.
The results were reported at the Lisbon, Portugal, meeting of the European Association for the Study of Diabetes and online September 14 by the New England Journal of Medicine.
For Further reading
http://www.nejm.org/doi/full/10.1056/NEJMoa1612917#t=article