................................ Advertisement ................................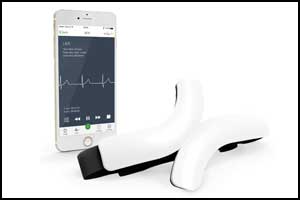 Immediate monitoring with a wearable mobile health device in individuals at high risk for atrial fibrillation (AF) versus delayed monitoring resulted in higher rate of AF diagnosis after 4 months, according to a new study.
The study, published in the Journal of the American Medical Association, finds that by catching AF, which can increase the risk of stroke fivefold, in people who are at risk but might have gone undiagnosed, the mobile health (mHealth) devices resulted in more people receiving critical preventive therapies.
Steven R. Steinhubl, Scripps Translational Science Institute, La Jolla, California, and colleagues conducted the first of its kind home-based clinical study to determine the effect of a self-applied wearable electrocardiogram (ECG) patch in detecting AF and the clinical consequences associated with such a detection strategy.
................................ Advertisement ................................
"Our study shows an almost threefold improvement in the rate of diagnosis of AF in the those actively monitored compared to usual care," says Steinhubl. "Timely diagnosis of AF more effectively can enable the initiation of effective therapies and help reduce strokes and death."
Atrial fibrillation an irregular heartbeat (arrhythmia) that beyond its associated stroke risk also doubles the risk of death. Fortunately, effective therapies can help substantially reduce the risk of stroke in individuals diagnosed with AFib. However, approximately a third of individuals with the disorder are asymptomatic, and the lack of effective screening prevents or delays diagnosis and treatment.
................................ Advertisement ................................
Recent advances in digital medicine technologies present opportunities for both innovative screening strategies, as well as more inclusive and participant-centric approaches to clinical research. Novel mobile health (mHealth) devices provide a means for effective monitoring of AF without interfering with routine activities.
Read Also: New Smartphone apps for atrial fibrillation to benefit patients and healthcare providers
The mSToPS clinical trial sought to compare outcomes of intermittent screening for AF during regular visits to a primary care physician with continuous, single-lead ECG monitoring using a patch sensor. The device used in the study was FDA approved wireless iRhythm Zio®XT patch for ECG screening.
................................ Advertisement ................................
A total of 5,214 individuals were included in the one-year analysis, with a third being assigned to the monitored cohort and the rest being observational controls. AF was newly diagnosed in 6.3 percent of the monitored participants and in 2.4 percent of the controls.
The digital outreach and enrollment, and the home-based approach meant that anyone who met the inclusion criteria could participate in the study, regardless of their geographical location.
All of the study data was participant-generated, with individuals self-applying the wearable sensor they received in the mail and returning it to iRhythm for analysis once they had worn the patch for up to two weeks. The generated data was also returned to the monitored participants and, with their approval, to their physicians.
According to Steinhubl, this is the first study to describe the early term clinical consequences of active ECG screening. By reviewing claims data, the researchers observed that active monitoring was associated with increased initiation of anticoagulant and antiarrhythmic therapies.
"This study demonstrates the utility of a digital approach not only to diagnosing asymptomatic AF but to the clinical research field as a whole," says Steinhubl. "We hope that it will set a precedent for future real-world, participant-centric clinical trials that leverage the power of digital medicine technologies."
Based on the study, the authors concluded that among individuals at high risk for AF, immediate monitoring with a home-based wearable ECG sensor patch, compared with delayed monitoring, resulted in a higher rate of AF diagnosis after 4 months. Monitored individuals, compared with nonmonitored controls, had higher rates of AF diagnosis, greater initiation of anticoagulants, but also increased healthcare resource utilization at 1 year.
For further information log on to 10.1001/jama.2018.8102
Author Details
Medha Baranwal joined Medical Dialogues as an Editor in 2018 for Speciality Medical Dialogues. She covers several medical specialties including Cardiac Sciences, Dentistry, Diabetes and Endo, Diagnostics, ENT, Gastroenterology, Neurosciences, and Radiology. She has completed her Bachelors in Biomedical Sciences from DU and then pursued Masters in Biotechnology from Amity University. She has a working experience of 5 years in the field of medical research writing, scientific writing, content writing, and content management. She can be contacted at medha@medicaldialogues.in. Contact no. 011-43720751
To know about our editorial team click here
................................ Advertisement ................................