Wearable device That can predict older adults' risk of falling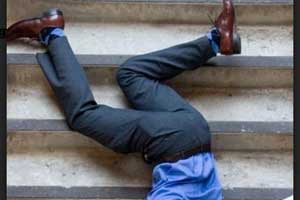 Data measuring the physical examinations of unsteadiness in standing and walking, extracted automatically from the devices may accurately predict the participants' risk of falling according to the findings of a study recently published in the journal Nature Digital Medicine. According to the results of the study accelerometer-based measures of gait are potentially useful in screening older women for fall risk.
Older people are more susceptible to fall which causes severe injury and other health disorders. All cases of fall are treated after the individual falls. Each year more than 66 % of people aged 65 and above will experience a fall.
Bruce Schatz and his colleagues conducted a study to find out if they could predict an individual's risk of falling so that preventative measures could be taken to reduce this risk. They did a pilot study to develop a machine learning algorithm for classifying older women into low versus high fall risk categories, based upon raw data from hip-worn accelerometers collected at 30 Hz during one bout of walking (from a 400-m walk test).
The research participants included 67 women aged 60 years and above and were tested on their walking ability. They were enquired about the number of falls they had experienced in the past year. Participants were asked to wear a small device with motion sensors that measured their walking patterns for one week.
The study found that data extracted automatically from the devices could accurately predict the participants' risk of falling, as measured by physical examinations of unsteadiness in standing and walking.
Studies found that the falling pattern was different in old aged people than in younger individuals. Younger people fall if they are not able to judge something, such as a slippery surface. However, older adults fall because their bodies are unstable, causing them to lose balance when walking or become unsteady when standing up and sitting down.
"Our prediction showed that we could very accurately tell the difference between people that were really stable and people that were unstable in some way," Schatz said.
The differentiated falling patterns gave researchers the idea that they might be able to measure this instability. The device they used, called an accelerometer, was able to measure the user's walking patterns and how unsteady they were. They combined this measurement with the individual's fall history to determine the risk of falling in the future.
According to the authors, the prediction of the fall, the risk is significant because many older adults often don't pay attention to the fact that they are unstable until after they fall. On the other hand, if they come to know they're at risk, they can do rehabilitation exercises to increase their strength and reduce their chance of falling.
The authors believe that based on the outcome of the research, more wearable devices, or even smartphone apps may be launched in near future measuring walking patterns and warn users of their fall risk which may result in improved quality of life among older adults as medicine and health care become more effective and predictable.
Source : With inputs from the joirnal Nature Digital Medicine