Watchman device use -Can we afford to overlook FDA's warning about adverse effects?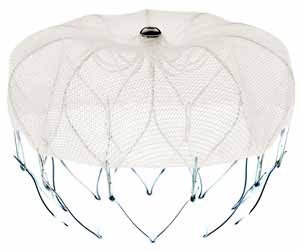 USA: An analysis of the US Food and Drug Administration (FDA) data throws light on the adverse events reported to the FDA from the use of the Watchman device (Boston Scientific). The device was approved in March 2015 for left atrial appendage (LAA) occlusion in high-risk patients with atrial fibrillation.
The reported adverse effects included pericardial effusion, device-related thrombus, cerebrovascular accident, and device embolization. Of nearly 3,000 adverse events reported to the agency's Manufacturer and User Facility Device Experience (MAUDE) database, 42% involved pericardial effusion, 11% thrombus, 5.7% cerebrovascular accident, and 5% device embolization. There were also about 211 deaths.
The findings were reported by Swaiman Singh, Newark Beth Israel Medical Center, NJ, at TCT 2019.
"Rather than discourage the use of the Watchman, the results provide information that operators can use to better manage these issues and improve patient outcomes," Singh said at the conference.
But this is one view trying to trivialize such a mammoth number of adverse effects reported by users of Watchman device. Can we afford to subscribe to this view.
A substantial proportion of patients who should be on prophylaxis for stroke—about 40%—are not taking medical therapy either because of side effects or because of a joint decision between patients and physicians.
LAA closure has emerged as an alternative approach, with the PROTECT-AF and PREVAIL trials of the Watchman device supporting its approval by the FDA in April 2015. However, the complication rates were high in the earliest studies.
In the PROTECT-AF trial, for instance, there was a 4.8% rate of pericardial effusion in the Watchman's arm. Rates of side effects decreased in the subsequent PREVAIL trial, probably because operators were getting better with performing the procedure over time.
The investigators examined the FDA's MAUDE database for adverse events related to the device reported between April 2015 and December 2018. They identified 2,974 events.
Key takeaways from the analysis:


Of the pericardial effusions, 32% required no intervention, 62% involved pericardiocentesis, 16.9% required surgery, and 1.5% required a pericardial window.


The fact that pericardiocentesis was performed in most cases suggests that most of these pericardial effusions occurred as macro-perforations. Being experienced in transseptal puncture, or partnering with someone else who has those skills, is key to preventing this complication.


Development of device-related thrombus (DRT), with most cases detected within 3 months of follow-up or on the first follow-up transesophageal echocardiogram, appears to be multifactorial.


Some of the cerebrovascular accidents reported were likely due to preexisting thrombus in the LAA without sufficient anticoagulation so a pre-procedure TEE is definitely something that should be done very carefully.


Device embolization is mostly related to inappropriate sizing or positioning, and it is recommended that operators perform the tug test and confirm device compression.


Source : With inputs from TCT 2019