Warning! Dietary supplements for weight loss, muscle building can lead to death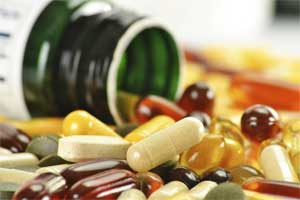 USA: Nowadays the youth is increasingly becoming dependent on dietary supplements for achieving quicker results for weight loss, gaining energy and muscle building. This trend could be harmful and can even lead to death in young adults and children, indicates a recent study.
The study, published in the Journal of Adolescent Health found that consumption of dietary supplements resulted in a three-fold increase in severe health issues in people aged 25 and younger, compared with vitamins. Results were based on the analysis of the Food and Drug Administration (FDA) records between January 2004 and April 2015. It found that intake of such supplements lead to 166 hospitalizations and 22 deaths, among 1000 participants.
The FDA has time and again warned people about the risks of taking supplements that promise "miracle" results like dramatic weight loss, muscle building, enhancing sports performance, sexual function and energy.
Flora Or, a researcher with Harvard Chan School's Strategic Training Initiative for the Prevention of Eating Disorders, and colleagues thus, set out to evaluate the relationship between supplement categories and adverse events in children, adolescents, and young adults.
For the purpose, the researchers looked at adverse effects from the database of the U.S. Food and Drug Administration Adverse Event Reporting System on the food and dietary supplements. They analyzed relative risk for medical events such as death, disability, life-threatening events, hospitalization, emergency room visit, and/or required intervention to prevent permanent disability in people aged 0 to 25 years associated with the use of dietary supplements.
Key findings of the study include:


There were 977 single-supplement–related adverse event reports affecting individuals aged between 0 and 25 years over 11 years (50.6% female).


Supplements sold for weight loss, muscle building, and energy were associated with almost three times the risk for severe medical outcomes compared to vitamins.


Supplements sold for sexual function and colon cleanse were associated with approximately two times the risk for severe medical outcomes compared to vitamins.


Reputable physicians do not recommend the use of the type of dietary supplements analyzed in this study, notes senior author S. Bryn Austin, a professor in the Department of Social and Behavioral Sciences. Many of these products have been found to be adulterated with prescription pharmaceuticals, banned substances, heavy metals, pesticides, and other dangerous chemicals. And other studies have linked weight-loss and muscle-building supplements with stroke, testicular cancer, liver damage, and even death.
"Proactive enforcement of regulations is needed to reduce access and consumption among children, adolescents, and young adults," concluded the authors.
For detailed study log on to
https://doi.org/10.1016/j.jadohealth.2019.03.005