................................ Advertisement ................................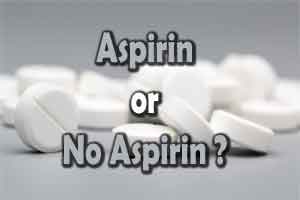 Aspirin within 3 Days of biopsy is tied to increased bleeding complications, revealed a study published in the American Journal of Roentgenology.
Following the release of the AHA/ACC guidelines which specifically warns about the bleeding risks associated with aspirin in heart patients taking the drug for primary prevention cardiovascular disease (CVD), use of aspirin has been extensively scrutinized.
Read Also: ACC/AHA Guidelines on CVD Prevention: How Aspirin Prescription should be in India-Dr Ashok Seth
................................ Advertisement ................................
Bleeding is one of the major risks during and after a biopsy that can trigger complications. Researchers from Mayo Clinic conducted a retrospective study to find out the frequency of bleeding complications after percutaneous core needle biopsy and the association with aspirin usage and length of aspirin discontinuation. The study showed that aspirin use within three days of biopsy may increase the risk of bleeding complications.
................................ Advertisement ................................
The researchers conducted the retrospective review of percutaneous image-guided core biopsies performed at their institution between September 1, 2005, and September 1, 2016, was performed on  30,966. 633 patients were excluded if aspirin usage data were missing.
Bleeding complications were defined using the Common Terminology Criteria for Adverse Events and were considered significant if they were grade 3 or higher. Multivariate models were adjusted for age, sex, platelet count, international normalized ratio, and biopsy target. Three categorizations of aspirin use were examined: any use within 10 days before a biopsy, duration of abstinence (> 10 days or no aspirin, 8–10 days, 4–7 days, and 0–3 days before biopsy), and use on the day of the biopsy. Associations with bleeding complications were modeled using logistic regression models. A p < 0.05 was considered significant.
The study included 30,333 biopsies in 21,938 subjects (57% male; median age, 60 years; interquartile range, 49–70 years).
Of the biopsies, 26.1% were performed in patients who received aspirin within 10 days of biopsy, and 47.5% of those biopsies were performed in patients who took aspirin within 3 days.
Ninety-eight 0.32% significant bleeding complications occurred overall, including 0.43% in patients who used aspirin within 10 days before the biopsy.
Duration of abstinence was associated with a significantly increased bleeding risk only between 0–3 days versus more than 10 days or no aspirin. Aspirin use on the day of the biopsy showed the greatest increase in risk.
"Significant bleeding complications after biopsy remain rare even among patients with recent aspirin usage, although the shorter duration of prebiopsy abstinence increases bleeding risk, most significantly if aspirin is taken the day of the biopsy." the authors conclude
For further reference, click on the link
(https://doi.org/10.2214/AJR.18.20366)
Deepanjana Sarkar joined Medical Dialogues as a Desk Editor in 2019 for Speciality Medical Dialogues. She has been working as a medical content writer from 2 years and has covered several medical specialties including Cardiac Sciences, Dentistry, Diabetes and Endo, Diagnostics, ENT, Gastroenterology, Oncology, and Radiology. She has completed her Master's in Technology (M.Tech) in biotechnology from Kalinga Institute of Industrial Technology, Bhubaneswar. She can be contacted at deepanjana@medicaldialogues.in. Contact no. 011-43720751
................................ Advertisement ................................