Walnut intake may lower BP and heart disease risk: Journal of American Heart Association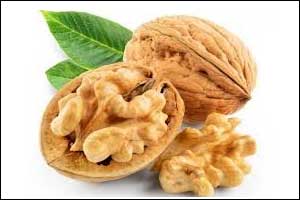 Walnut intake may lower BP and heart disease risk finds a new study appearing in the Journal of American Heart Association.
Death attributable to high blood pressure (BP), a major risk factor for heart disease, has steadily increased over the years. Walnuts are a rich source of polyunsaturated fatty acids (PUFA) and known to have beneficial effects on cardiovascular risk factors. A new study published in the Journal of the American Heart Association has found that consumption of walnuts in combination with a diet low in saturated fats, may help in lowering of BP in people at risk for cardiovascular disease (CVD).
Walnuts have beneficial effects on cardiovascular risk factors, but it is unclear whether these effects are attributable to the fatty acid (FA) content, including α‐linolenic acid (ALA), and/or bioactive. Alyssa M. Tindall, Department of Nutritional Sciences, The Pennsylvania State University, University Park, PA, and colleagues conducted the study to examine the effects of replacing some of the saturated fats in participants' diets with walnuts.
They found that when participants ate whole walnuts daily in combination with lower overall amounts of saturated fat, they had lower central blood pressure.
"Walnuts contain alpha-linolenic acid -- ALA -- a plant-based omega-3 that may positively affect blood pressure," Tindall said. "We wanted to see if ALA was the major contributor to these heart-healthy benefits, or if it was another bioactive component of walnuts, like polyphenols. We designed the study to test if these components had additive benefits."
Also Read: Walnut consumption lowers blood pressure in elderly with mild hypertension
For the study, the researchers recruited 45 participants with overweight or obesity who were between the ages of 30 and 65. Before the study began, participants were placed on a "run-in" diet for two weeks.
"Putting everyone on the same diet for two weeks prior to the start of the study helped put everyone on the same starting plane," Tindall said. "The run-in diet included 12 percent of their calories from saturated fat, which mimics an average American diet. This way, when the participants started on the study diets, we knew for sure that the walnuts or other oils replaced saturated fats."
After the run-in diet, the participants were randomly assigned to one of three study diets, all of which included less saturated fat than the run-in diet. The diets included one that incorporated whole walnuts, one that included the same amount of ALA and polyunsaturated fatty acids without walnuts, and one that partially substituted oleic acid (another fatty acid) for the same amount of ALA found in walnuts, without any walnuts.
All three diets substituted walnuts or vegetable oils for five percent of the saturated fat content of the run-in diet, and all participants followed each diet for six weeks, with a break between diet periods.
Following each diet period, the researchers assessed the participants for several cardiovascular risk factors including central systolic and diastolic blood pressure, brachial pressure, cholesterol, and arterial stiffness.
Also Read: Consumption of Walnut lowers depression symptoms, says new study
Key findings of the study include:


While all treatment diets had a positive effect on cardiovascular outcomes, the diet with whole walnuts provided the greatest benefits, including lower central diastolic blood pressure.


In contrast to brachial pressure -- which is the pressure moving away from your heart and measured with an arm cuff in the doctor's office --, central pressure is the pressure moving toward your heart.


There were no differences between the walnut diet and the walnut fatty acid‐matched diet (−0.22±0.8 mm Hg, P=0.20) or the walnut FA‐matched and oleic acid–replaced‐ALA diets.


The WD significantly lowered brachial and central mean arterial pressure. All diets lowered total cholesterol, LDL (low‐density lipoprotein) cholesterol, HDL (high‐density lipoprotein) cholesterol, and non‐HDL cholesterol.


The results underline the importance of replacing saturated fat with healthier alternatives, said Tindall.
"In summary, our findings demonstrate that replacement of SFA with PUFA from walnuts and vegetable oils and MUFA from vegetable oils significantly reduces established cardiovascular risk factors, including TC, LDL‐C, and non‐HDL‐C," write the authors.
"The results show that relatively small shifts from a Western‐style diet to dietary patterns with a favorable fatty acid profile, achieved using different food‐based approaches, confers cardiovascular benefits," they concluded.
For further reference follow the link: https://doi.org/10.1161/JAHA.118.011512