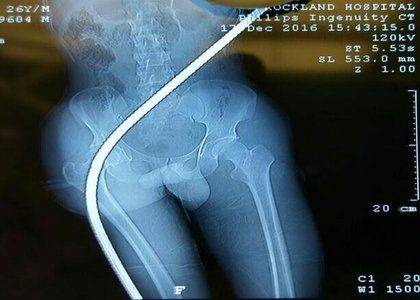 Gurgaon : VPS Rockland Hospital in Manesar, the multi-super specialty hospital located in the industrial town of Manesar, recently conducted a three hour critical, but life saving surgery of a construction site worker who fell from the sixth floor of an under construction site.
The patient was bleeding profusely when he was bought by the employer to the hospital for immediate treatment. The doctors first stabilized him and then carried out extensive imaging to view the rod's insertion in his body to decide on the treatment. Modern imagining diagnostics helped the doctors finalize the course of rod and treatment modality. It was found that the iron rod, which was almost 6 foot long and 2 cm wide, had penetrated the body in such way that it had crossed the spinal canal affecting the main nerves and vessels of the body. The rod made a two feet insertion and two holes in his body. It pierced his right thigh, went through the sacral vertebrae and came out from the left lower back. Any delay in the operation would have been fatal for the patient and the team of doctors jointly took a critical decision to operate the boy immediately.
Dr. Nitin Arora ( Consultant Surgeon) the and team of other senior doctors from VPS Rockland Hospitals Manesar, which included Vascular, Neuro and Spine surgeon, conducted a three hour life saving surgery on this patient.  An open surgery was performed and all parts from the limb to the back were screened. Through the surgery, the doctors were successful in removing the rod without any significant intra-operative complications.
"The patient's X-ray CT scan reports showed that the iron rod had penetrated the body in such a way that it had crossed the spinal canal, affecting the main nerves and vessels of the body. Immediate surgical intervention was carried out by a team of four surgeons. The operation lasted over three hours and was critical as bladder functions could have been severely compromised since the rod was close to the intestine," said Dr. Nitin Arora, Senior Consultant, Department of advanced minimal access surgery, VPS Rockland Hospital Manesar.
After the surgery, the patient was in kept in Intensive Care Unit (ICU) for five days and in general ward for another three days.The patient recovered well under the care of an experienced team of doctors and was discharged successfully from the hospital after proper medication and supervision.