................................ Advertisement ................................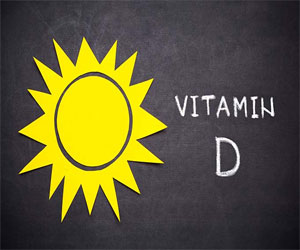 Vitamin D supplementation protects against Acute Respiratory Infections. Vitamin D protects against acute reparatory infections, in patients with deficient bolus doses: reported a study published in the Journal Health Technology Assessment.
Low blood levels of vitamin D (the 'sunshine vitamin') have been linked to an increased risk of colds, flu and chest infections, collectively termed 'acute respiratory infections' (ARIs). Clinical trials testing whether or not vitamin D supplements can prevent ARIs have had mixed results. The reason why vitamin D appears to work in some situations but not others is not understood. Randomised controlled trials (RCTs) exploring the potential of vitamin D to prevent acute respiratory infections have yielded mixed results. Individual participant data (IPD) meta-analysis has the potential to identify factors that may explain this heterogeneity.
Please also read –How Vitamin D deficiency leads to cognitive decline,finds Study
................................ Advertisement ................................
Acute respiratory infections (ARI) of viral and bacterial origin, such as the common cold, pharyngitis, laryngitis, tracheitis, bronchitis, bronchiolitis, pneumonia, and bronchopneumonia, pose serious problems owing to their great prevalence with associated high mortality rates and economic costs. Since 1963, the World Health Organization has been concerned with the difficult problem of estimating the actual importance of ARI within the general evolution of communicable diseases.
Please also read –Vitamin D benefits only elderly patients with heart failure: EVITA trial
................................ Advertisement ................................
Adrian R Martineau at Centre for Primary Care and Public Health, Barts and The London School of Medicine and Dentistry, Queen Mary University of London, London, UK and colleagues conducted a Meta-Analysis to ascertain if Vitamin D supplementation helps to prevent colds, flu and chest infections? The study indented to assess the overall effect of vitamin D supplementation on the risk of acute respiratory infections (ARIs) and to identify factors modifying this effect.
The researchers obtained raw data on a total of 10,933 people from 25 trials conducted in 15 countries. Participants were aged from 0 to 95 years. All of the studies were randomized, double-blind, placebo-controlled trials .e they compared vitamin D with placebo (dummy medication), i.e which is the gold standard trial design. The sources of data included MEDLINE, EMBASE, the Cochrane Central Register of Controlled Trials (CENTRAL), Web of Science, ClinicalTrials.gov and the International Standard Randomised Controlled Trials Number (ISRCTN) registry.
It was found that overall, vitamin D supplements reduced the risk of having at least one ARI from 42% to 39%. The study also showed that vitamin D had greater protective effects when it was given daily or weekly to people with the lowest vitamin D levels: the risk of having at least one ARI was reduced from 60% to 32% in these individuals. Vitamin D was not effective in protecting against ARIs when it was given in large, widely spaced doses. Taking vitamin D supplements was found to be safe.
................................ Advertisement ................................
The researchers concluded that taking a vitamin D supplement can protect against ARIs. The strongest effects are seen when a daily or weekly supplement is given to people with the lowest vitamin D levels. They found that vitamin D supplementation was safe, and it protected against ARIs overall. Very deficient individuals and those not receiving bolus doses experienced the benefit.
For further reference log on to :
https://doi.org/10.3310/hta23020
Author Details
Deepanjana Sarkar joined Medical Dialogues as a Desk Editor in 2019 for Speciality Medical Dialogues. She has been working as a medical content writer from 2 years and has covered several medical specialties including Cardiac Sciences, Dentistry, Diabetes and Endo, Diagnostics, ENT, Gastroenterology, Oncology, and Radiology. She has completed her Master's in Technology (M.Tech) in biotechnology from Kalinga Institute of Industrial Technology, Bhubaneswar. She can be contacted at deepanjana@medicaldialogues.in. Contact no. 011-43720751
................................ Advertisement ................................