Vitamin D has no positive impact on Diabetes outcomes : Study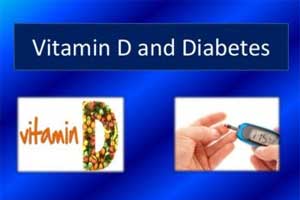 Vitamin D3 at 4000 IU/d has no impact on insulin secretion rate (ISR) and hemoglobin A1c (HbA1c) in patients with well-controlled type 2 diabetes on metformin, according to a study published in the Journal of the Endocrine Society.
This double-blind, randomized and placebo-controlled clinical trial was conducted by Edith Angellotti, Division of Endocrinology, Diabetes and Metabolism, Tufts Medical Center, Boston, Massachusetts, and colleagues to evaluate the effectiveness of oral daily vitamin D supplementation on pancreatic β-cell function and HbA1c, and its safety in the U.S. adults with well-controlled type 2 diabetes.
Although type 2 diabetes-specific pharmacotherapy is well studied and efficacious, it is associated with poor long-term adherence, potential side effects, and high costs. Therefore, there is a need for identification of alternative therapeutic options that can be applied at the public health level to decrease diabetes-related costs and burden.
Suboptimal status of vitamin D has emerged as a potential contributor to the pathophysiology of type 2 diabetes, with several lines of evidence supporting a role for vitamin D in pancreatic
β
-cell function and insulin sensitivity.
Although several meta-analyses have supported a beneficial effect of vitamin D supplementation on glycemia and insulin sensitivity in patients with type 2 diabetes, no definitive conclusions could be drawn from them as the trials were short-term and of varied quality, had small sample sizes, and had a varied mode of vitamin D administration. And also, the effect of vitamin D supplementation among American adults with type 2 diabetes is not known.
The study consisted of 127 patients (mean age, 60 years) with stable (HbA1c ≤7.5%) diabetes managed with lifestyle only or lifestyle plus metformin. The subjects were given 4000 units of vitamin D3 (cholecalciferol) daily or placebo for 48 weeks. Patients were seen at 16, 24, 36, and 48 weeks, and blood was obtained after an 8-hour overnight fast.
Insulin secretion rate (ISR) was estimated from peripheral plasma C-peptide levels after a 3-hour 75-g oral glucose tolerance test done at baseline and week 24. Changes in HbA1c were assessed at 16, 24, 36, and 48 weeks.
Key Results:


Baseline mean plasma 25-hydroxyvitamin D [25(OH)D] concentration was 26.6 ng/mL, mean HbA1c was 6.6%, and 78% of patients were on metformin.


At week 24, mean 25(OH)D changed by 20.5 and −1.6 ng/mL in the vitamin D and placebo groups, respectively.


The vitamin D and placebo groups did not differ in change in ISR or HbA1c.


Among patients treated with lifestyle only (n = 28), vitamin D supplementation reduced HbA1c compared with placebo (−0.1% vs 0.3%, respectively) at week 24.


Based on the study, the researchers concluded that daily administration of 4000 IU vitamin D3 compared with placebo did not improve HbA1c or OGTT-based indices of β-cell function or insulin secretion in the largest US-based trial among patients with well-controlled, stable type 2 diabetes not selected for vitamin D deficiency. A reduction in HbA1c was observed at week 24 among patients treated with lifestyle only; however, this result could be due to chance.
For further information click on the link:
https://doi.org/10.1210/js.2018-00015
Source : With inputs from JES