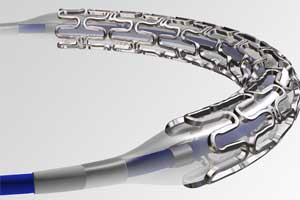 Its a Victory and proud moment for all Indians-Indian made DES stent Supraflex has been found to be a  worthy match to world's best Xience stent n a study presented at TCT 2018.
The findings of the TALENT trial have established India's largest stent manufacturer SMT's Supraflex stent clinically at par with Abbott's Xience family, with a numerically better outcome. This certainly is a boost to Indian Medical equipment manufacturing industry and Prime Minister Modi's Make in India Campaign.
In the first randomized trial of an Indian-made stent versus the best-in-class Xience stent (Abbott), the biodegradable-polymer sirolimus-eluting stent Supraflex (SMT; Surat, India) proved itself to be a worthy match in results presented here at (Transcatheter Cardiovascular Therapeutics) TCT 2018. Dr Patrick Serruys, a globally renowned cardiologist with a history of path-breaking global clinical trials was the study chair for TALENT study. Padma Shri Dr Upendra Kaul, a renowned cardiologist was the study co-chairman.
Padma Shri Dr Upendra Kaul, one of the leading cardiologist from India was the co-chair of the TALENT Study. Commenting on the study, Dr Kaul said, "There remained a perception that stents produced outside of India were superior to homegrown devices. There were demands from Indian manufacturers to prove that their devices are comparable to those made elsewhere in robust clinical trials. TALENT is the first such trial to yield positive results and stands out with a far better efficacy compared to the competitors."
In the TALENT non-inferiority trial, the device-oriented endpoint of combined cardiac death, target vessel MI, and clinically-indicated target lesion revascularization at 1 year was observed in 4.9% and 5.3% of Supraflex and Xience recipients, respectively , reported Patrick Serruys, of Imperial College London and Erasmus University Rotterdam in the Netherlands.The TALENT trial was conducted across 7 countries in Europe at 23 renowned centers with a sample size of 1435 patients
None of these individual components showed an advantage to either stent, though patients randomized to the Supraflex did trend toward more cardiac deaths, Serruys said during a late-breaking trial presentation at the Transcatheter Cardiovascular Therapeutics (TCT) conference.
Also Read: Removable balloon as effective as stent implant for small blocked arteries: ESC 2018
The 0.6% all-cause mortality rate among those who got the Xience everolimus-eluting stent gave this device an edge versus 2.0% for Supraflex (P=0.019). However, Serruys highlighted the all-comers population in this study, and also noted that Xience had previously been associated with more than 2.0% death rates in similar all-comers populations from the TARGET, BIOSCIENCE, TWENTE, and RESOLUTE trials.
"Since clinical outcomes of contemporary drug-eluting stents [DES] is reaching a 'safety' plateau; it is likely that cost-effectiveness will influence in the near future 'the stent market,'" Serruys said. "The study results have important economic implications in countries with capped stent prices, such as India, and in some European countries with competitive pricing and different models of health care cost savings."
In India, the cost of DES went from $1,800 to being capped at no more than $440 in 2017. This country is projected to be the second largest international stent market after China by 2020, according to the investigator.
Based on TALENT, operators now have another good DES available and the lower cost can mean more patients are able to receive treatment, suggested TCT session discussant Marie-Claude Morice, MD, of the Institut Cardiovasculaire Paris Sud.
Trial participants (n=1,435) were enrolled from 23 participating sites across Europe. Patients randomized to the Xience arm were more likely to have had previous coronary artery bypass grafting at baseline (7.7% vs 4.6%).
Procedure and device success was slightly lower in the Supraflex group. Some operators had a tendency to cross over to a more familiar stent technology, Serruys said, noting that pushability was perhaps an issue with this device.
"I think what we have to emphasize is that initially, the [stent] technology came from the U.S. It'll be interesting to see what the Chinese and Indian technology is coming to," he said.