Vertebroplasty-Standard Treatment Guidelines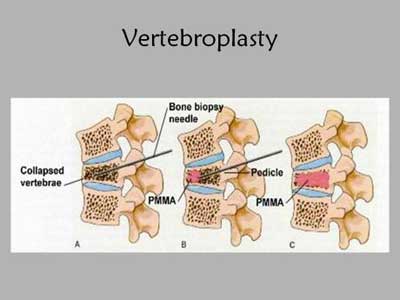 Introduction
Vertebroplasty is injection of bone cement into a diseased vertebra, Percutaneously, under image guidance. This is done to provide pain relief and to strengthen the diseased vertebra.
Ministry of Health and Family Welfare, Government of India has issued the Standard Treatment Guidelines for Vertebroplasty.
Following are the major recommendations :
Indications
It is indicated under the following conditions for near immediate pain relief / where prolonged bed rest is contraindicated / pain relief is inadequate with analgesics:
1. Painful osteoporotic collapse vertebra
2. Painful metastatic collapse vertebra
3. Painful Hemangioma of vertebra
4. Post traumatic painful partial collapse in a non osteoporotic vertebra without retropulsion causing cord compression.
INCIDENCE OF THE CONDITION IN OUR COUNTRY
Osteoporosis and malignancy have a world wide distribution. Cancer is the leading cause of death. Osteoporosis is inevitable with age.
DIFFERENTIAL DIAGNOSIS N/A
PREVENTION AND COUNSELING: Early diagnosis of osteoporosis and malignancy and their appropriate treatment will reduce the incidence of osteoporotic collapse vertebrae and of metastases. This can reduce the incidence of vertebral collapse.
OPTIMAL DIAGNOSTIC CRITERIA, INVESTIGATIONS, TREATMENT & REFERRAL CRITERIA / FOLLOW UP
Diagnostic Criteria:


Vertebral tenderness


Radiograph Spine – shows partial collapse of vertebral body that stender.


MRI – shows marrow edema in the vertebral body


Radiograph and MRI – Not suggestive of infective etiology


Bone biopsy to be done along with vertebroplasty if MRI suggests metastatic possibility.


Investigations:


Radiograph of Spine – AP and Lateral views


MRI Spine


Blood - Hb, TLC, DLC


Blood – Platelets count


Blood – INR


Blood Creatinine


Treatment:
Vertebroplasty As required for etiology of partial collapse, such as for malignancy or Osteoporosis.
Referral criteria:
Patients meeting the criteria for vertebroplasty should be referred to centers equipped with capability to perform vertebroplasty.
Follow up:
Clinical after 1 week
Subsequent follow up should be if there is recurrence of symptoms.
Situation 1: At Secondary Hospital/ Non-Metro situation: Optimal Standards of Treatment in Situations where technology and resources are limited
Clinical Diagnosis
Back ache with local tenderness on the spinous process of the vertebra.
Investigations
i. Radiograph Spine AP and lateral views, ii. MRI Spine iii. Blood – Hb, TLC, DLC, ESR, Platelets, INR, Glucose fasting and post prandial, Creatinine.
Treatment:
Standard Operating procedure :
Based on the clinical condition of the patient, the procedure can be done under Local anesthesia / Conscious sedation / General Anesthesia. The patient is positioned on a Fluoroscopy unit, in a prone position for dorsal and lumbar vertebrae and supine for cervical vertebrae. A patient who cannot lie prone or supine may lie in a decubitus position. A biplane DSA unit is preferable. However the procedure can be done in a single plane fluoroscopy unit.
Appropriate anesthesia / sedation is given. The Needle approved for Vertebroplasty is positioned into the anterior half of the vertebral body Under Image guidance with Image intensifier. Opacified bone cement approved for Vertebroplasty is injected into the vertebral body under live fluoroscopy, so as to diffuse into the affected vertebral body. Care be taken to avoid cement passage out of the vertebral body. The needle is removed. The patient is on bed rest for a minimum period of 3 hours. Additional restrictions are as per the anesthesia.
a. In Patient: If necessitated by the general condition of the patient.
b. Out Patient: Can be treated as outpatient.
c. Day Care: Can be treated as outpatient.
Referral criteria: As above
Situation 2: At Super Specialty Facility in Metro location where higher-end technology is available
Clinical Diagnosis: As above
Investigations: As above
Treatment: As above
Standard Operating procedure: As above
a. In Patient
b. Out Patient
c. Day Care
Referral criteria: As above
RESOURCES REQUIRED FOR ONE PATIENT / PROCEDURE (PATIENT WEIGHT 60 KGS)
(Units to be specified for human resources, investigations, drugs and consumables and equipment. Quantity to also be specified)
| | | | | |
| --- | --- | --- | --- | --- |
| SITUATION | HUMAN RESOURCES | INVESTIGATIONS | DRUGS & CONSUMABLES | EQUIPMENT |
| 1. | Interventional Radiologist -1 | Blood Hb, TLC, DLC | Vertebroplasty Set -1 | C Arm. Preferably Biplane |
| | Nurse -1 | Blood Platelet count | Local Anesthetic- 10ml | Muti parmeter monitor |
| | X Ray Technitian trained in C Arm - 1 | Blood – INR | Sedative | Oxygen |
| | Anesthetist if required | Blood Creatinine | Analgesic | Defibrillator |
| | | | | |
| 2. | Same as above | Same as above | Same as above | Same as above |
Guidelines by The Ministry of Health and Family Welfare :
Dr. Chander Mohan
Dr. B.L. Kapur Hospital
New Delhi