Vegetarian diets in childhood and adolescence: Position paper by DGKJ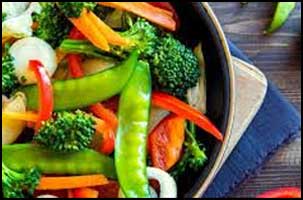 German Society for Paediatric and Adolescent Medicine (DGKJ) has released position paper of its nutrition committee on vegetarian diets in childhood and adolescence which have appeared in Molecular and Cellular Pediatrics.
The health benefits of vegetarian diets have been elaborated in various studies. But whether the corresponding health benefits in vegetarians outweigh the risks of nutrient deficiencies has not been fully clarified.
With a vegetarian diet, the mean intakes of some nutrients, such as the omega-3 fatty acid docosahexaenoic acid (DHA), are lower than in omnivores or those eating fish.Moreover vegetarian diets are associated with lower intakes of energy, saturated fatty acids and animal protein and higher intakes of fibre and phytochemicals, compared to omnivorous diets.
It should be noted that vegetarians often have a higher socioeconomic status, follow a more health-conscious lifestyle with higher physical activity, and refrain from smoking more often than non-vegetarians. The nutritional needs of growing children and adolescents can generally be met through a balanced, vegetable-based diet; however, due to their higher nutrient requirements per kilogramme of body weight, vegetarian children have a higher risk for developing nutrient deficiencies than adults. For other nutrients, such as iron and zinc, the bioavailability from vegetable foodstuffs is reduced when the intake of phytates and fibre is high; thus, the prevalence of iron deficiency can be increased despite high vitamin C intake. In addition, vitamin B12 is only found in animal-source foods. Vitamin B12 should be supplemented in people of all age groups who follow a strict vegan diet without consuming animal products. A vegetarian diet in childhood and adolescence requires good information and supervision by a paediatrician, if necessary, in cooperation with an appropriately trained dietary specialist.
Conclusions and recommendations


A balanced, omnivorous diet with ample consumption of plant-based foods and moderate consumption of meat, fish and milk products is the recommended diet for children because nutrient requirements are most easily and most likely met.


Restrictive diets are associated with an increased risk of nutrient deficiency: the stricter the diet, the greater the risk.


A balanced, lacto-ovo-vegetarian diet as part of a healthy lifestyle during infancy, childhood and adolescence can meet nutritional requirements, support normal growth and age-appropriate development. However, special attention should be given to ensure higher iron intakes in order to compensate for lower iron bioavailability.


A vegan diet (without any animal-derived foods) over an extended period of time regularly leads to vitamin B12 deficiency if the diet is not appropriately supplemented. Providers should pay attention to the intake and status of iron, zinc, iodine, DHA, calcium, protein and calories in order to prevent serious clinical complications such as growth faltering, anaemia or neurological damage.


Vitamin B12 is not only essential for children and adolescents with vegan diets, but it is also critical during pregnancy and breastfeeding. Insufficient vitamin B12 can result in severe deficiency symptoms in infants and young children. Pregnant and nursing mothers with vegan diets should take vitamin B12 through oral supplements to meet nutritional requirements.


Nutrition and diet should be a part of pediatric care and prevention. Paediatricians caring for children with vegetarian or restrictive diets should monitor physical development and dietary intakes, if necessary, in cooperation with an appropriately trained dietician/nutritionist. Blood tests may be necessary in certain cases to assess nutrient status. Additional foods, as well as supplements, should be recommended in the case of inadequate nutrient intakes or nutrient deficiencies.


Journal Information:
Molecular and Cellular Pediatrics
For more details click on the link:
https://doi.org/10.1186/s40348-019-0091-z
Source : Molecular and Cellular Pediatrics