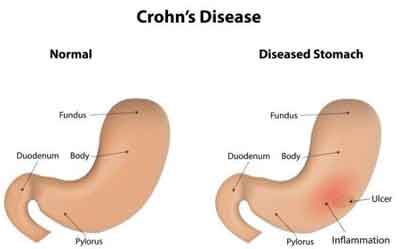 Treatment with vedolizumab appears to induce clinical remission and/or mucosal healing in a considerable number of patients with moderate to severe Crohn's disease (CD), with only minor cases of adverse-event-related discontinuation, according to data from the US VICTORY Consortium.
Researchers followed 212 patients with moderate to severe CD (median age 34 years; 60 percent female) who were treated with vedolizumab for an average of 39 weeks. Majority of the patients were exposed to tumour necrosis factor (TNF)-antagonist (90 percent). Study outcomes were clinical remission or mucosal healing, serious infection, and serious adverse events.
The 12-month cumulative rate was 35 percent for clinical remission, 63 percent for mucosal healing, and 26 percent for deep remission (clinical remission and mucosal healing).
Patients who were less likely to achieve clinical remission included those with prior TNF-antagonist exposure (hazard ratio [HR], 0.40; 95 percent CI, 0.20 to 0.81), smoking history (HR, 0.47; 0.25 to 0.89), active perianal disease (HR, 0.49; 0.27 to 0.88), and severe disease activity (HR, 0.54; 0.31 to 0.95). Meanwhile, the odds of mucosal healing were lower in those with prior TNF-antagonist exposure (HR, 0.29; 0.12 to 0.73) and severe disease activity (HR, 0.54; 0.31 to 0.95).
During 160 patient years of follow-up (PYF) and 1,433 VDZ infusions, infusion reactions occurred in 5 patients (3.5 per 1,000 infusions), serious infections occurred in 21 (13 per 100 PYF), and serious adverse events occurred in 17 (10 per 100 PYF). Few patients required therapy discontinuation due to adverse events (6 per 100 PYF).
Vedolizumab is indicated for both CD and ulcerative colitis. These two conditions are characterised by the infiltration of the mucosa by leukocytes, which is believed to contribute to epithelial damage. Vedolizumab works by targeting the α4β7 integrin and selectively preventing the infiltration of leucocytes into the gastrointestinal submucosa. [Gut 2016;doi:10.1136/gutjnl-2015-311079; Immunotherapy 2012;4:883–898]
The findings underscore the efficacy and safety of vedolizumab for moderate to severe CD in routine clinical practice.
You can read the full article by clicking on the following link
The following two tabs change content below.
supriya kashyap
Supriya Kashyap Joined Medical Dialogue as Reporter in 2015 . she covers all the medical specialty news in different medical categories. She also covers the Medical guidelines, Medical Journals, rare medical surgeries as well as all the updates in medical filed. She is a graduate from Delhi University. She can be contacted at supriya.kashyap@medicaldialogues.in Contact no. 011-43720751
Latest posts by supriya kashyap (see all)