Vedolizumab effective for treatment of ulcerative colitis: NEJM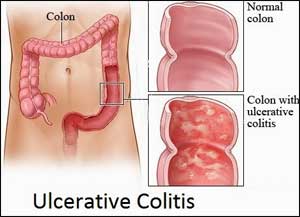 New York: A recent study published in the New England Journal of Medicine has found vedolizumab (Entyvio, Takeda) to be superior to adalimumab (Humira, AbbVie) for the treatment of moderate-to-severe ulcerative colitis. According to the study, vedolizumab helped achieve better clinical remiMRI saves money, better than CT in acute strokession and endoscopic improvement but not corticosteroid-free clinical remission.
According to the definition by Mayo Clinic, ulcerative colitis is an inflammatory bowel disease (IBD) that causes long-lasting inflammation and ulcers (sores) in the digestive tract. Ulcerative colitis affects the innermost lining large intestine (colon) and rectum. Symptoms usually develop over time, rather than suddenly.
Biologic therapies are widely used in patients with ulcerative colitis. However, there is a dearth of head-to-head trials of these therapies being performed in patients with inflammatory bowel disease.
Bruce E. Sands, Icahn School of Medicine at Mount Sinai in New York, and colleagues report the results of the VARSITY trial, which directly compared the efficacy and safety of vedolizumab with those of adalimumab in patients with moderately to severely active ulcerative colitis.
The multicenter, phase 3b trial included 769 patients with moderately to severely active ulcerative colitis and was conducted from 2015 to 2019. Previous exposure to a TNF inhibitor other than adalimumab was allowed in up to 25 percent of patients. Participants were randomized to vedolizumab (n=383) received intravenous infusions of 300 mg every eight weeks, while those assigned to adalimumab (n=386) received 40 mg subcutaneously every two weeks. Dose escalation was not permitted, but stable doses of corticosteroids, aminosalicylates, or immunomodulators were allowed.
The primary outcome was clinical remission at week 52 (defined as a total score of ≤2 on the Mayo scale and no subscore >1 on any of the four Mayo scale components).
Key findings of the study include:



At week 52, clinical remission was observed in 31.3 percent of patients in the vedolizumab group and 22.5 percent in the adalimumab group.




Respective endoscopic improvement was 39.7 percent and 27.7 percent.



Corticosteroid-free clinical remission occurred in 12.6 percent and 21.8 percent of patients, respectively.


Respective exposure-adjusted incidence rates of infection were 23.4 and 34.6 events per 100 patient-years with vedolizumab and adalimumab, and the rates for serious infection were 1.6 and 2.2 events per 100 patient-years, respectively.


"There were no notable treatment differences between patients who were receiving concomitant immunomodulator therapy and those who were not."
"The results of the current trial suggest that corticosteroid-free clinical remission occurred in a higher percentage of patients in the adalimumab group than in the vedolizumab group. It is difficult to explain the inconsistency of the results between this secondary remission outcome and the primary remission outcome," the authors wrote.
"In this trial involving patients with moderately to severely active ulcerative colitis, vedolizumab was superior to adalimumab with respect to achievement of clinical remission and endoscopic improvement, but not corticosteroid-free clinical remission," they concluded.
About

Vedolizumab
Vedolizumab is a gut-selective monoclonal antibody that binds to the leukocyte integrin α4β7, and adalimumab is a humanized monoclonal antibody that binds and neutralizes TNF.
More Information: "Vedolizumab versus Adalimumab for Moderate-to-Severe Ulcerative Colitis" published in The New England Journal of Medicine
DOI:
10.1056/NEJMoa1905725
Journal Information:
The New England Journal of Medicine
Source : NEJM