Vaginal delivery may lower Asthma risk in kids, finds study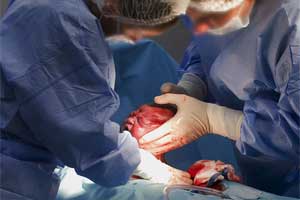 USA: Vaginal delivery can lower the risk of allergic diseases including Asthma in children, finds a recent study presented at the American College of Asthma, Allergy & Immunology Scientific Meeting. The benefit of lowering allergies is also exhibited by breastfeeding. The results of the study add to the growing literature on the impact of delivery mode on the development of allergies.
This will help pregnant women to take a before-hand decision on the delivery method and postnatal care of the baby that would help to prevent allergies in them, especially if the mother themselves suffer from allergies or asthma.
Although previous study results had suggested that vaginal delivery and breastfeeding were tied to lower risk for single allergic outcomes, no previous studies examined whether these factors impacted the development of multiple allergies. Stanislaw J. Gabryszewski, of the division of allergy and immunology at Children's Hospital of Philadelphia, and colleagues evaluated the impact of delivery and nutrition on multiple conditions, researchers evaluated patients in a virtual birth cohort consisting of infants who were treated at 31 different primary care sites. The software was used to identify patients with zero, at least one, two, three, or four allergic conditions, including eczema, IgE-mediated food allergy, and asthma.
Researchers calculated the hazard ratio to assess the effects of vaginal and cesarean delivery and how the infant was feed — breastmilk, formula, or both — on developing allergic conditions.
Key findings include:


Vaginal delivery was associated with a reduced rate of developing at least one (HR = 0.89), two (HR = 0.83), three (HR = 0.84) and four (HR = 0.79) allergic conditions.


Breastfeeding alone was associated with a reduced rate of developing at least one (HR = 0.74), two (HR = 0.75) or three (HR = 0.89) conditions, and feeding with both breastmilk and formula was associated with a lower rate of developing at least one condition (HR = 0.94).


"From a practical standpoint, this suggests that using breast milk when possible could be predisposed to less allergic disease over time," Gabryszewski said.
He noted that while there are many factors that go into decisions about feeding and clear indications for cesarean, physicians should consider reduced allergic disease burden with their patients who are undecided on their delivery or feeding method.
The study titled "Delivery Mode and Feeding Practices Influence Allergic Disease Burden" was presented at the American College of Allergy, Asthma and Immunology (ACAAI) Annual Scientific Meeting in Houston.
Source : American College of Allergy, Asthma and Immunology Annual Scientific Meeting