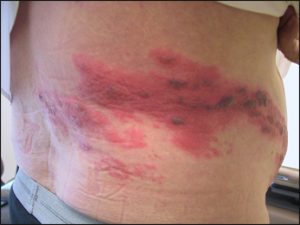 Herpes zoster (Shingles) is a painful rash that usually develops on one side of the body, often the face or torso. The rash consists of blisters that typically scab over in 7 to 10 days and clears up within 2 to 4 weeks. The pain is often felt as an intense burning sensation. The pain can last for months or even years after the rash goes away in some people. This long-lasting pain is called postherpetic neuralgia (PHN), and it is the most common complication of shingles. The risk of getting shingles and PHN increases with age.
The policy statement from the American Academy of Ophthalmology reviewed the effectiveness of recombinant zoster vaccine (RZV) as compared to zoster live vaccine (ZLV) for decreasing the incidence of herpes zoster in adults aged above50 years. Both RZV and ZVL are FDA-approved for individuals above 50 years of age.
Read Also:Shingles reported at Chicken pox vaccination site in some children
The Centers for Disease Control and Prevention(CDC) now recommends vaccination against herpes zoster with the RZV for immunocompetent adults 50 years of age and older. Vaccination starting at 50 years of age might reduce the burden of this disease, including chronic eye disease.
The new shingles vaccine called Shingrix (recombinant zoster vaccine) was licensed by the U.S. Food and Drug Administration (FDA) in 2017. CDC recommends that healthy adults 50 years and older get two doses of Shingrix, 2 to 6 months apart. Shingrix provides strong protection against shingles and PHN. Shingrix is the preferred vaccine, over Zostavax® (zoster vaccine live), a shingles vaccine in use since 2006. Zostavax may still be used to prevent shingles in healthy adults 60 years and older. For example, you could use Zostavax if a person is allergic to Shingrix, prefers Zostavax, or requests immediate vaccination and Shingrix is unavailable.
Based on the CDC conclusion, RZV should be recommended to all individuals aged 50 and older who do not have contraindications.
For reference log on to https://doi.org/10.1016/j.ophtha.2018.07.003