Ustekinumab found safe and effective for treatment of Crohn's disease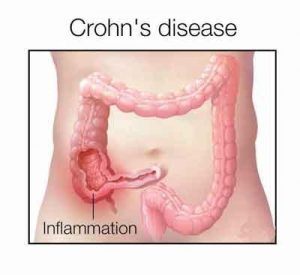 Ustekinumab (Stelara), a human monoclonal antibody targeting interleukins 12 and 23, is safe and effective for the treatment of Crohn's disease, according to findings from a recent study.
The study, presented at the Digestive Disease Week, found that the administration of ustekinumab resulted in clinical remission in more than half of the patients with Crohn's disease who were examined.
Marisa Iborra, from Hospital Universitario La Fe, in Valencia, Spain, and colleagues aimed to assess the real-world, short-term effectiveness of ustekinumab in medically refractory Crohn's disease in this large, highly refractory cohort.
To examine the effectiveness of ustekinumab, the researchers examined 305 patients with Crohn's disease who were administered ustekinumab after June 2017, when the agent was approved in Spain. The patients received the recommended dose of ustekinumab: a 6 mg/kg IV infusion and a 90 mg subcutaneous injection at week 8.
Clinical remission was measured using the Harvey Bradshaw Index (HBI) and was defined as a score of 4 or less. The researchers documented HBI, C-reactive protein and faecal calprotectin measurements at baseline, week 8 and week 14. They also recorded data on demographics, clinical information, endoscopies at baseline when available, prior therapies, side effects and hospitalizations. Factors that may predict clinical remission were also assessed.
Also Read: Eating Plant-based diet, an effective treatment of Crohn's Disease
Key findings of the study include:


At the start of the study, nearly three-quarters of patients (72%) had an HBI score of more than 4.


Clinical remission was reached in 47% of these patients at week 8 and 58% at week 14.


There were 109 patients taking corticosteroids at the beginning of the study; by week 14, 52 of these patients (48%) were in corticosteroid-free remission.


Fecal calprotein values normalized (<250 µg/g) among 22% of patients at week 8 and 24% of patients at week 14, while CRP values normalized (<3 mg/L) among 40% of patients at week 8 and 35% of patients at week 14.


Twelve percent of patients experienced adverse events. Overall, 40 patients needed to be hospitalized; seven of these admissions were due to adverse events.


Clinical remission at week 14 was related to the inability to tolerate the most recently prescribed anti-TNF agent and prior exposure to fewer anti-TNF agents.


Endoscopic severity, but not prior treatment with vedolizumab, correlated with poor response.


Also Read: Humira administration within 2 years improves remission in Crohn's disease patients
"This is the first study to show the real-world safety and effectiveness of ustekinumab in a large cohort of highly refractory Crohn's disease patients," concluded the authors.