USPTF releases expanded ultrasound screening statement for AAA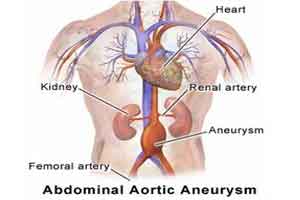 The U.S. Preventative Services Task Force (USPTF) published today a final recommendation statement on screening for abdominal aortic aneurysm (AAA) – a "ballooning" in the wall of the main artery that carries blood from the heart to the lower part of the body that often has no signs or symptoms and can burst, or rupture, without warning.
The current recommendation is a one-time ultrasound screening for AAA for men ages 65 to 75 who smoke or used to smoke, selective screening for non-smokers in the age group with other risk factors such as family history, but it is not recommended for other groups. Marc Schermerhorn, MD, Chief of the Division of Vascular and Endovascular Surgery at Beth Israel Deaconess Medical Center (BIDMC) recently authored two perspective pieces on this topic – one in the journal JAMA Surgery and another in the journal Circulation. Schermerhorn available for interview to discuss why he feels strongly the AAA screening recommendations should be expanded to include other groups.
According to Schermerhorn, screening should be expanded to two populations in particular: women with one risk factor and patients over the age of 75 years who are in good health. The cost of screening is low and those populations have a sufficiently high prevalence of the disease.
"Although AAA is less common in the overall population of women, the prevalence in select subgroups such as smokers and those with heart disease is comparable to men," says Shermerhorn. "Similarly, patients older than 75 years have the highest risk of aneurysm-related mortality, but are not eligible for screening under current guidelines, despite excellent life expectancy."
Screening for AAA entails a simple, noninvasive, cost-effective and focused ultrasonography examination the potential harms of which are the psychologic burden of knowledge of the presence of an aneurysm and the risk of elective surgery.
For more details click on the link:
https://doi.org/10.1001/jamasurg.2019.5234