................................ Advertisement ................................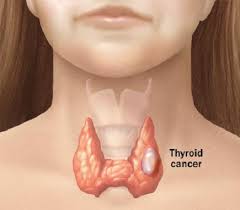 In 2013, the incidence rate of thyroid cancer in the United States was 15.3 cases per 100,000 persons, which is a significant increase from 1975, when the incidence rate was 4.9 cases per 100,000 persons.The increase was 6.7% per year from 1997 to 2009, but the rate of increase has slowed to 2.1% per year in recent years (2009–2013).Meanwhile, the change in mortality rate has increased by only about 0.7 deaths per 100,000 persons each year. Most cases of thyroid cancer have a good prognosis.The 5-year survival rate for thyroid cancer overall is 98.1% and varies from 99.9% for the localized disease to 55.3% for distant disease. USPSTF has released recommendation Statement for screening Thyroid Cancer.
TABLE 1.
Screening for Thyroid Cancer: Clinical Summary of the USPSTF Recommendation
Population

................................ Advertisement ................................

Asymptomatic adults

................................ Advertisement ................................

Recommendation

Do not screen for thyroid cancer.Grade: D

Risk assessment

Factors that substantially increase the risk for thyroid cancer include a history of radiation exposure to the head and neck as a child, exposure to radioactive fallout, family history of thyroid cancer in a first-degree relative, and certain genetic conditions, such as familial medullary thyroid cancer or multiple endocrine neoplasia syndrome (type 2A or 2B).

Screening tests

Evidence is inadequate to estimate the accuracy of neck palpation or ultrasound of the thyroid as screening tests for thyroid cancer in asymptomatic persons.

Treatment

Surgery (i.e., total or partial thyroidectomy, with or without lymphadenectomy) is the main treatment for thyroid cancer. Additional treatment, including radioactive iodine therapy, may be indicated, depending on postoperative disease status, tumor stage, and type of thyroid cancer. External-beam radiation therapy and chemotherapy are not generally used to treat early-stage, differentiated thyroid cancer.

The balance of benefits and harms

The USPSTF concludes with moderate certainty that screening for thyroid cancer in asymptomatic persons results in harms that outweigh the benefits
For a summary of the evidence systematically reviewed in making this recommendation, the full recommendation statement, and supporting documents go to https://www.uspreventiveservicestaskforce.org/.
Dr Kamal Kant Kohli-MBBS, DTCD- a chest specialist with more than 30 years of practice and a flair for writing clinical articles, Dr Kamal Kant Kohli joined Medical Dialogues as an Editor-in-Chief for the Speciality Medical Dialogues section. Besides writing articles, as an editor, he proofreads and verifies all the medical content published on Medical Dialogues including those coming from journals, studies,medical conferences,guidelines etc.
Before Joining Medical Dialogues, he has served at important positions in the medical industry in India including as the Hony. Secretary of the Delhi Medical Association as well as the chairman of Anti-Quackery Committee in Delhi and worked with other Medical Councils in India. Email: editorial@medicaldialogues.in. Contact no. 011-43720751
To know about our editorial team click here
................................ Advertisement ................................