................................ Advertisement ................................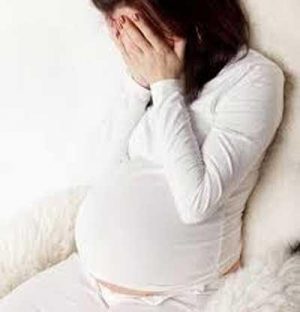 US Preventive Services Task Force (USPSTF) has issued recommendation on interventions to prevent perinatal depression. The guidance addresses mainly Women's healthcare providers and it recommends that pregnant and postpartum women be screened for excess risk for depression and referred for appropriate counseling.
Perinatal depression, which is the occurrence of a depressive disorder during pregnancy or following childbirth, affects as many as 1 in 7 women and is one of the most common complications of pregnancy and the postpartum period. It is well established that perinatal depression can result in adverse short- and long-term effects on both the woman and child.
Prior guidelines have recommended screening for depression during and after pregnancy and such screening is now widely practiced. Now, in a shift toward a population-based public health strategy, the USPSTF has extended its recommendation from screening for a disease — depression — to screening for associated risk factors and implementing preventive measures.
................................ Advertisement ................................
Main Points are-
................................ Advertisement ................................
The task force recommends that clinicians provide or refer pregnant and postpartum patients at excess risk for perinatal depression to counseling interventions (B recommendation)
Acknowledging the lack of a validated screening tool for identifying at-risk women, the task force notes that women with at least one of the following factors are at increased risk for perinatal depression:History of depression,Current depressive symptoms not meeting the threshold for screening positive for depression, Low income, Adolescence, Single parenthood, Recent intimate partner violence, Anxiety, Recent significant negative life events.
Counseling or psychotherapeutic interventions can reduce the likelihood of onset of perinatal depression.
Mixed or limited evidence support other interventions, including physical activity, education, pharmacotherapy, dietary supplements, and health system interventions.
U.S. is the only industrialized country without a federal paid maternity leave law; paid parental leave represents an important policy change that would significantly advance maternal and child health. It will take a concerted effort to accelerate implementation of screening for the causative factors. Most high-quality studies of interventions to prevent perinatal depression have focused on women with elevated depressive symptoms or a personal history of depression.
The USPSTF found no other guidelines on the prevention of perinatal depression. The American College of Obstetricians and Gynecologists recommends early postpartum follow-up care, including screening for depression and anxiety, for all postpartum women.
For further reference log on to: JAMA. 2019;321(6):580-587. doi:10.1001/jama.2019.0007
................................ Advertisement ................................
Author Details
Dr Kamal Kant Kohli-MBBS, DTCD- a chest specialist with more than 30 years of practice and a flair for writing clinical articles, Dr Kamal Kant Kohli joined Medical Dialogues as an Editor-in-Chief for the Speciality Medical Dialogues section. Besides writing articles, as an editor, he proofreads and verifies all the medical content published on Medical Dialogues including those coming from journals, studies,medical conferences,guidelines etc.
Before Joining Medical Dialogues, he has served at important positions in the medical industry in India including as the Hony. Secretary of the Delhi Medical Association as well as the chairman of Anti-Quackery Committee in Delhi and worked with other Medical Councils in India. Email: editorial@medicaldialogues.in. Contact no. 011-43720751
To know about our editorial team click here
................................ Advertisement ................................