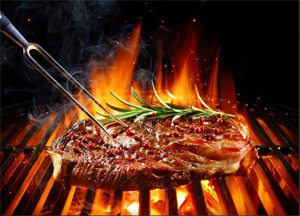 Long-term use of solid fuels for cooking was associated with significantly elevated risks of hospitalization or death from both acute and chronic respiratory diseases, according to a new research published in the American Thoracic Society's American Journal of Respiratory and Critical Care Medicine.
The researchers from the Oxford University in the United Kingdom and the Chinese Academy of Medical Sciences reported that chronic and acute respiratory disease hospitalizations or deaths were 36 percent higher among those who used wood or coal for cooking compared to those who used electricity or gas. Solid fuels like coal and wood emit very high levels of pollutants, especially very small particles that can penetrate deep into the lungs.
Ka Hung Chan and associates conducted a cohort study to examine the associations of solid fuel use and risks of acute and chronic respiratory diseases.
The investigators conducted a  cohort study of 277,838 Chinese never-smokers with no prior major chronic diseases at baseline. During 9-years follow-up, 19,823 first hospitalization episodes or deaths from major respiratory diseases, including 10,553 chronic lower respiratory disease (CLRD), 4,398 chronic obstructive pulmonary diseases (COPD),  and 7,324 acute lower respiratory infections (ALRI) were recorded.
Read Also: Research  suggests , Sooty particles from polluted air reach placenta
The study found that the longer people used solid fuels, the higher the risk of hospitalization or death from a respiratory disease than those who cooked with gas or electricity. Those who used wood or coal for 40 years or longer, had a 54 percent higher risk of hospitalization or death from respiratory disease, while those who switched from solid fuels to clean-burning fuels reduced their risk to only 14 percent higher than those who never cooked with wood or coal.
While many previous studies have suggested a link between solid fuel use and COPD, most of them focused on changes in lung function, rather than hospital admissions or deaths," said lead author Ka Hung Chan.
Compared to other studies that have found a two- to three-fold increase in COPD among those burning wood or coal in their cookstoves, the authors noted that their research found a weaker association between burning wood or coal in a cookstove and COPD.
About three billion people around the world live in households that regularly burn wood, coal or other solid fuels to cook their food. Typically, these households are found in the rural areas of low- and middle-income countries.

For reference log on to
https://www.atsjournals.org/doi/abs/10.1164/rccm.201803-0432OC