Use of NSAIDs in pediatric ENT infections: SFORL guidelines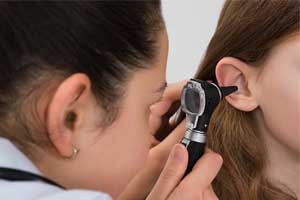 The French Society of Otolaryngology-Head and Neck Surgery has released practice guidelines concerning the use of non-steroidal anti-inflammatory drugs (NSAIDs) in pediatric ENT infections. Based on a critical analysis of the medical literature up to November 2016, a multidisciplinary workgroup of 11 practitioners wrote clinical practice guidelines. The guidelines have appeared in the European Annals of Otorhinolaryngology, Head and Neck Diseases.
The current guidelines for treating children with ear infections have an emphasis on avoiding antibiotics where possible. In very young children (under 6 months, or both ears under 2 years old) or severe cases typically antibiotics are given. The other cases, non-severe in somewhat older children may be given "watchful waiting" where the child's clinical course is followed carefully and antibiotics can be started later if needed but not right away. This delay is because most ear infections are caused by viruses- these are not helped at all by antibiotics. Ibuprofen is the most widely used non-steroidal anti-inflammatory drug (NSAID) for the treatment of inflammation, mild-to-moderate pain and fever in children, and is the only NSAID approved for use in children aged ≥3 months. Its efficacy and safety profile have led to its increasing use in paediatric care,
Major recommendations are


In uncomplicated pediatric ENT infections, such as acute otitis media, tonsillitis, upper respiratory tract infections, and maxillary sinusitis, nonsteroidal anti-inflammatory drugs (NSAIDs) are indicated at analgesic doses (eg, ibuprofen 20-30 mg/kg/day) in combination with acetaminophen in the following circumstances:


The pain intensity is determined to be medium (ie, a visual analogue scale [VAS] score of 3-5 or "Evaluation Enfant Douleur" [EVENDOL] child pain score of 4-7) and insufficiently responsive to first-line acetaminophen (residual VAS ≥3 or EVENDOL ≥4)


Pain is moderate to intense (VAS score 5-7 or EVENDOL score 7-10)


The combination of acetaminophen and ibuprofen should be taken simultaneously every 6 hours.


In severe or complicated ENT infections, NSAIDs should not be prescribed to pediatric patients.


InENT infections with unusual clinical presentations in terms of duration of symptoms, NSAIDs should be suspended in patients.


NSAIDs should not be prescribed for more than 72 hours.


For more information log on to
https://doi.org/10.1016/j.anorl.2019.04.00
Source : European Annals of Otorhinolaryngology, Head and Neck Diseases