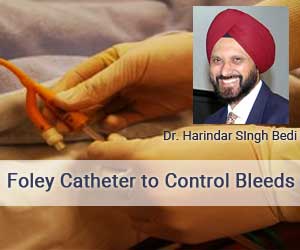 A massive inaccessible bleed from a blowout of the brachial AV hemodialysis fistula of a man was controlled using a foley catheter. The case was reported by Dr Harindar Singh Bedi, Director Cardio Vascular Endovascular & Thoracic Sciences, Ivy Hospital, Mohali, Punjab.
Vascular access should be a multidisciplinary effort as it encompasses many difficult problems and should only be done by those dedicated to its success and those ready to try the innovation.
A 56-year-old male with chronic kidney disease on regular hemodialysis at a peripheral center had a massive bleed from a blowout of the brachial AV hemodialysis fistula. This was controlled temporarily with pressure – Figure 1 – arrow points to the blow out the site. His CT angiogram  (Figure 2 and 3) showed a pseudoaneurysm (arrows) in the venous part of the fistula with a surrounding hematoma. He was immediately taken for surgery where he bled profusely again on removing the bandage.
A tourniquet was used at the arm to attempt to control the bleeding. On evacuating the clotted blood the site of entry and exit were located in the aneurysmal sac. Brisk arterial and venous bleeding continued in spite of the tourniquet. As the area was fibrotic clamps could not be applied. Bleeding was controlled by the introduction of 2 sterile Foley urinary catheters into the entry and exit sites, inflating the balloon and giving gentle traction (Figure 4 – 1 and 2 are the two Foley catheters).
The excess fibrotic tissue of the pseudo-aneurysm was trimmed away. The bleeding areas were then easily controlled with a 4-0 prolene purse-string suture and removal of the Foley catheters. Distal pulses were normal. The area was closed primarily after excision of the edematous skin edges and mobilization of skin flaps. The patient did well and underwent hemodialysis from central venous access. An arteriovenous fistula is planned in the near future.
This case highlights the use of a Foley catheter to get immediate hemostasis in emergencies and in cases where the application of a clamp may not be easily possible because of fibrosis or inflammation.
Dr. Harinder Singh Bedi, the author is MCh, FIACS (Gold Medalist) and is Director, Cardio Vascular Endovascular & Thoracic Sciences, at the Ivy  Hospital, Mohali, Punjab. He was earlier at the Escorts Heart Institute, New Delhi and the St Vincent's Hospital, Australia. Dr Bedi is also the Vice President  of the Venous Association of India and the Patron & Founder President of the Association of the North Zone Cardio Thoracic & Vascular Surgeons. He is a member Editorial Board, Cardiac Sciences at Specialty Medical Dialogues
Disclaimer:
The views expressed in the above article are solely those of the author/agency in his/her private capacity and DO NOT represent the views of
Speciality Medical Dialogues
.