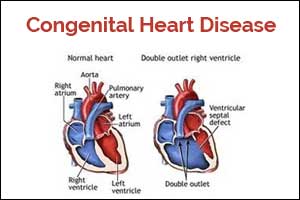 The administration of furosemide (Lasix) therapy in children with congenital heart disease (CHD) is associated with an increased risk of bone fractures in them, according to a new study published in The Journal of Pediatrics.
The study was conducted by Ji Haeng Heo, Genesis Research, Hoboken, NJ, and colleagues to determine the association of furosemide therapy with the incidence of bone fractures in children with congenital heart disease.
CHD is a defect of the heart's structure present at birth. The problem can affect the blood vessels, the heart valves, and the heart walls.  It disrupts the normal blood flow through the heart that impacts normal breathing.
Furosemide is a water pill (loop diuretic) that is used for the treatment of fluid build-up caused due to kidney disease, congestive heart failure, and liver scarring. It prevents too much absorption of salt by the body allowing the salt to be passed in the urine. It is frequently prescribed for children with heart disease, is known to increase urinary excretion of calcium and is suspected to be associated with bone fractures in adults.
For the research, the investigators reviewed data in the Texas Medicaid Database from 2008 through 2014 on 3912 patients (<12 years old) with congenital heart defects (CHD), cardiomyopathy, or heart failure. Of these, 254 (6%) were adherent furosemide users (≥70% medication possession ratio), 724 (19%) were nonadherent users (<70% MPR), and 2934 (75%) were propensity-score–matched nonusers. Few other diuretics were coadministered.
Results at a median follow-up of about 3 years were as follows:
The incidence of fracture was higher in adherent and nonadherent furosemide users than in nonusers (9.1% and 7.2% vs. 5.0%; P<0.001).
The risk of fracture was higher in children with a dual diagnosis of CHD/cardiomyopathy or CHD/heart failure than in those with CHD only.
The risk for fracture was 87% higher in adherent users than in nonusers and was 54% higher in nonadherent users than in nonusers.
The risk of fracture was higher in white children than in black or Hispanic children.
The risk of fracture was higher in children receiving versus not receiving proton-pump inhibitors (PPIs).
"Children with CHD who are receiving furosemide have an excess risk for fractures, especially if they have cardiomyopathy, are white, and take PPIs," concluded the authors.