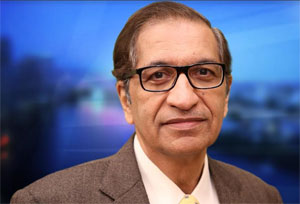 Patients with atrial fibrillation (AF) on novel oral anticoagulation (NOAC) agents who develop an acute coronary syndrome (ACS) or a patient with recent stenting who develops AF represent a group of patients in whom you need oral anticoagulation for the AF and dual antiplatelet therapy for the stenting. This creates a situation where the combination of two antiplatelet agents and oral anticoagulation produces a high-risk situation for developing bleeding complications. Fig 1 shows how to deal with AF patients who present with an ACS. Thrombolysis is to be avoided and primary percutaneous coronary intervention (PCI) opted for, using the radial approach.
Fig 1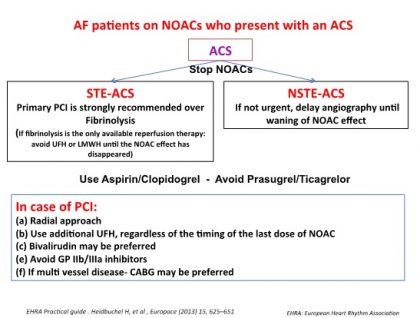 Another important issue is how to manage the antiplatelet and anticoagulation therapy after the stent implantation. European Society of Cardiology has laid out clear guidelines that are easy to follow, balancing the bleeding risk with the issue of stent thrombosis.
Fig 2, shows that the duration of dual antiplatelet therapy should be determined on the basis of high or low bleeding risk, trying as best as possible to keep the duration of triple therapy to a minimum. It is important to note that at the end of one year only anticoagulation without any antiplatelet therapy will suffice.
FIG 2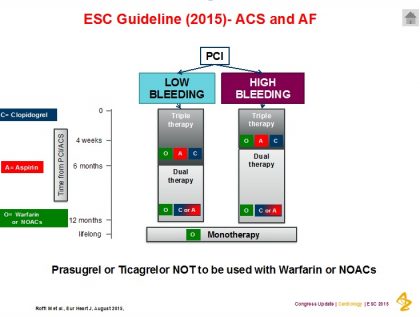 Data from WOEST study has suggested that clopidogrel is safer than aspirin when combined with warfarin. We however have no such data regarding whether aspirin or clopidogrel should be used with NOACs.
There are multiple recent trials including ATLAS, PIONEER and GEMINI, which have looked at the combination of smaller dose of Rivaroxaban, and the REDUAL-PCI study with Dabigatran, along with antiplatelet agents to identify the optimal doses of these drugs in the management of patients who need both antiplatelet and anticoagulation therapy following PCI. This situation requires individualization and really represents the art of practicing medicine
The Author, Dr Jamshed J Dalal is the Director-Cardiology at Kokilaben Hospital, Mumbai and he is presenting on the topic -Use of Antiplatelet & anticoagulation in PCI & AF at India Live 2018
The following two tabs change content below.