Use alpha-blockers cautiously -- they can cause low BP in women
Canada: Alpha-blockers (ABs) -- commonly prescribed as a part of a multidrug regimen for hypertension (high BP) management -- may pose the risk of hypotension (low BP) in women, a recent study published in the AHA journal Hypertension has found.
Alpha-blockers, also called α-blockers or alpha-adrenergic antagonists, treat conditions such as high blood pressure and benign prostatic hyperplasia. They relax certain muscles and help small blood vessels to remain open. They work by keeping the hormone norepinephrine (noradrenaline) from tightening the muscles in the walls of smaller arteries and veins, which causes the vessels to remain open and relaxed. This improves blood flow and lowers blood pressure.
Marcel Ruzicka, University of Ottawa, Canada, and colleagues set out to access the risk of low blood pressure and related adverse events ( such as syncope, fall, and fracture) associated with the use of alpha-blockers compared with other BP-lowering drugs.
This population-based, retrospective cohort study conducted between 1995 and 2015 in Ontario, Canada involved 734 907 women (≥66 years). The association (between AB use and hypotension and related events) compared with other BP-lowering drugs was examined through Cox proportional hazards via a high dimensional propensity score.
From 734 907 eligible women, 14 106 were dispensed an AB (mean age, 75.7; standard deviation 6.9 years, median follow-up 1 year) and matched to 14 106 dispensed other BP-lowering agents.
The primary outcome was a composite of hospitalizations for hypotension and related events (syncope, fractures, and falls) within 1 year.
Also Read: Intensive Blood Pressure control linked to better brain health: JAMA
Key findings include:



The crude incidence rate of hypotension and related events was 95.7 (95% CI [confidence interval], 90.4–101.1, events 1214 [8.6%]) with AB and 79.8 (95% CI, 74.9–84.7 per 1000 person-years, events 1025 [7.3%]) with other BP-lowering medications (incident rate ratio, 1.20; 95% CI, 1.10–1.30).




The risk was higher for hypotension (hazard ratio, 1.71) and syncope (hazard ratio, 1.44) with no difference in falls, fractures, adverse cardiac events, or all-cause mortality.




Treatment of hypertension in women with ABs is associated with a higher risk of hypotension and hypotension-related events compared with other BP-lowering agents.



Also Read: Blood pressure monitoring may one day be easy as taking a video selfie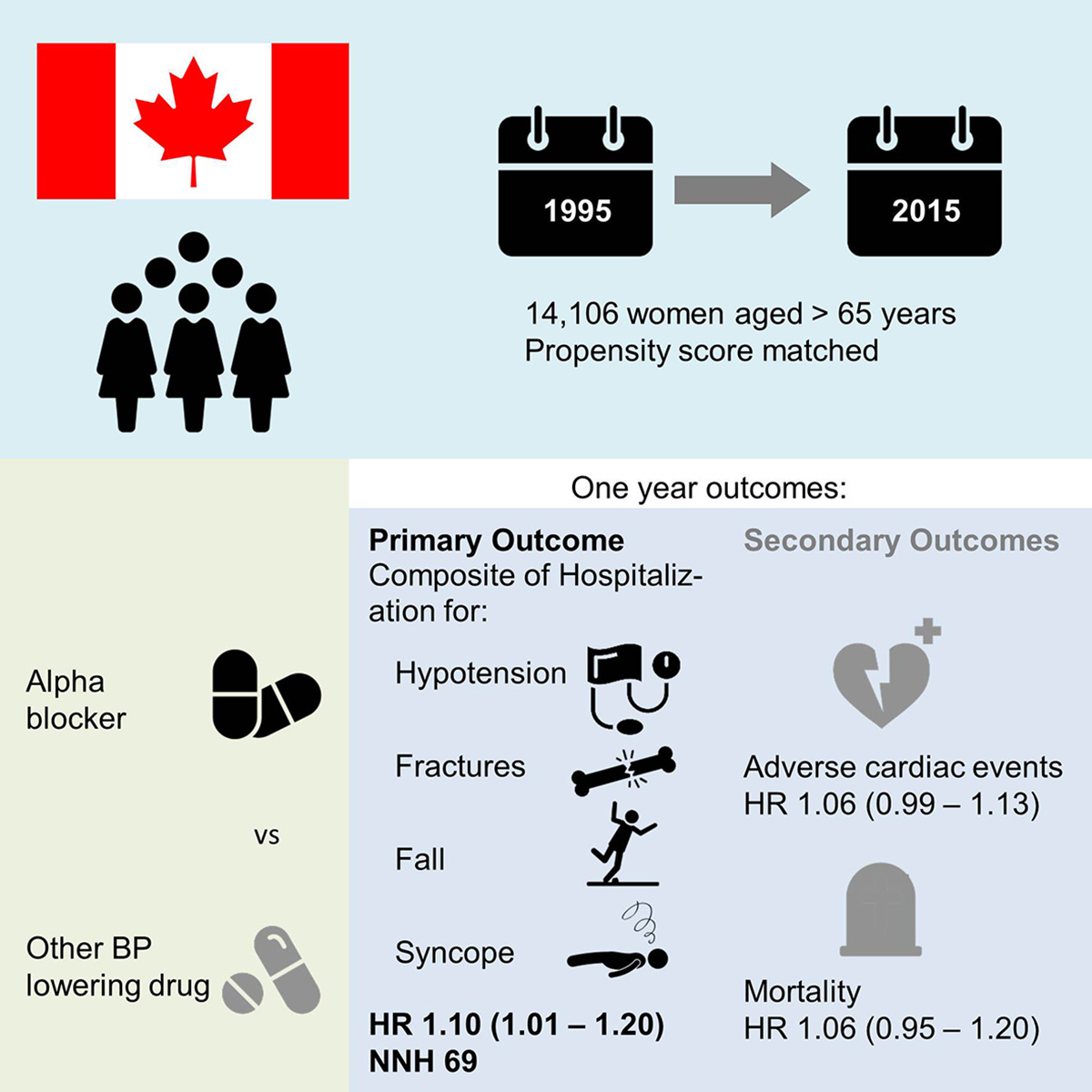 SOURCE: AHA journal Hypertension
The bottom line of the study is ---> Alpha-blockers should be used with caution, even as add on therapy for hypertension.
To read the complete study log on to https://doi.org/10.1161/HYPERTENSIONAHA.119.13289