Urticaria as a manifestation of Hodgkin's lymphoma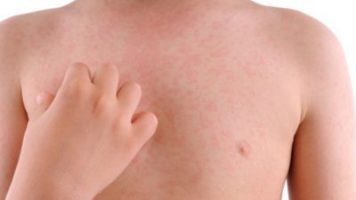 This is a case of a middle-aged gentleman who presented with a history of several months of hives. His itching and hives which were present for several months were not adequately controlled with antihistamines. His symptoms stopped after his treatment of Hodgkin's lymphoma.

A 45-year-old presented with symptoms of hives and intense pruritus for the past 8 months. He complained that the rash and itching is more prominent in the night. There is a report of considerable distress from the rash, which he describes it as of burning quality. He also complained of frequent thirst and dryness of skin despite adequate fluid intake. The hives were present for the past 3-4 months and are partially controlled with cetirizine 10 mg q.h.s.

There was no history of exposure to new medication, dietary supplements, naturopathic medicines, cosmetics, or recent travel. There is no other history of any significant viral or bacterial infection prior to the onset of hives.

His history was negative for fever, chills, weight loss, fatigue, joint pain, abdominal pain, or any other systemic complaints. He was not a hypertensive or diabetic. The family history is insignificant for autoimmune diseases. A physical examination and review of systems were normal, and there was no visible rash. He was ordered blood investigations, which turned out to be normal complete blood counts, differential count, hemoglobin/C-reactive protein were normal.

The patient's medication was changed to Fexofenadine 120 mg q.h.s and advised to follow-up in 3 weeks for review. However, the patient visited the clinic after 2 weeks with increasing pruritus and decreasing exercise tolerance.

On examination, there were no visible hives, but the dryness of skin was noted. There were nontender firm lymph nodes noted in the cervical region. He gave a similar history of lymph node swelling 1-year back for which he underwent aspiration cytology of his lymph nodes and was treated symptomatically for Kikuchi-Fujimoto disease (KFD).

An x-ray of the chest revealed small calcific foci at the bilateral apex of lungs. Serum lactate dehydrogenase (LDH), which is widely used as a tissue damage marker was normal. Ultrasound examination of the lymph nodes of the neck was ordered, which revealed 3 or 4 enlarged lymph nodes seen on the right side of neck largest measuring 2.6 cm × 0.6 cm.

Multiple enlarged, edematous, oval or spherical shaped lymph nodes were seen in the left side of the neck and supraclavicular region, and the largest measured 2.9 cm × 1.5 cm. Few nodes revealed small cystic necrosis within lymph nodes, punctata echogenic focus within the lymphatic node with calcification or caseation necrosis with no increased vascularity within it.

The patient was referred to the surgical unit. Tissue biopsy of the lymph nodes was followed by immunohistochemistry and a diagnosis of Hodgkin's Lymphoma Stage 11 A was made. He was started on chemotherapy. The patient reported resolution of his hives and itching after the end of his chemotherapy sessions.
For more details click on the link : DOI: 10.4103/0972-6691.178275