Urine test That screens cancer on samples mailed from home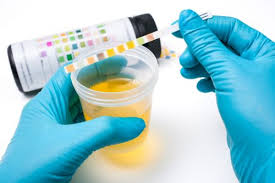 Researchers of Japanese firm Hitachi are poised to carry out world's first experiment to test for cancer using urine samples. A urine test is less intrusive than the standard blood test currently used in cancer screening.This would greatly facilitate screening for the deadly disease especially if facilities are created to screen urine samples mailed from home.Basically, the technology centers around detecting waste materials inside urine samples that act as a "biomarker" — a naturally occurring substance by which a particular disease can be identified, the company said in a statement.The researchers have been working on the method for 3 years and about 2,000 biological waste materials in urine have been checked and several biomarkers tied to cancer have been found.
The company developed the basic technology to detect breast or colon cancer from urine samples two years ago.It had plans to launch an experiment this month to improve the accuracy of the screening method by finding out whether test results could be affected by temperature changes and time required for delivery of samples.
It will now begin testing the method using some 250 urine samples, to see if samples at room temperature are suitable for analysis, Hitachi spokesman Chiharu Odaira told AFP."If this method is put to practical use, it will be a lot easier for people to get a cancer test, as there will be no need to go to a medical organization for a blood test," he said.It is also intended to be used to detect paediatric cancers."That will be especially beneficial in testing for small children" who are often afraid of needles, added Odaira.The company plans to start practical use of the test method in early 2020.
Research published earlier this year demonstrated that a new blood test has shown promise toward detecting eight different kinds of tumors before they spread elsewhere in the body.
Usual diagnostic methods for breast cancer consist of a mammogram followed by a biopsy if a risk is detected.For colon cancer, screening is generally conducted via a stool test and a colonoscopy for patients at high risk.The procedure aims to improve the early detection of cancer, saving lives and reducing the medical and social cost to the country, Odaira explained.The experiment will start this month until through September in cooperation with Nagoya University in central Japan."We aim to put the technology to use in the 2020s, although this depends on various things such as getting approval from the authorities," Odaira said.
Hitachi's senior official Shinji Yamada says he believes a mail-in urine test will make it easier for many people to undergo screening, including infants.