Urinary obstruction: A disease of elderly men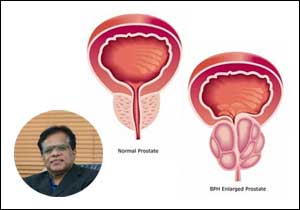 Urinary problems due to bladder outlet obstruction affect a large number of elderly men. A vast majority of them suffer from a condition named benign prostatic hyperplasia. In this condition, the prostate gland, which is one of the male accessory sex glands situated below the bladder neck, enlarge in size to obstruct the outflow of the urinary bladder as depicted in the diagram. This leads to a variety of urinary symptoms grouped together as lower urinary tract symptoms (LUTs).
What are the symptoms of urinary obstruction?
The LUTs includes symptoms pertaining to the flow of urine like,


poor stream of urine,


intermittent stream,


symptom of incomplete voiding and


straining while passing urine.


LUTs also consists of symptoms related to storage of urine secondary to damage caused to the bladder musculature due to a long-standing untreated obstruction like


frequency and


urgency


Complications related to bladder outlet obstruction due to benign prostatic enlargement:
The primary care physicians treat LUTs with medicine. In our country, referral to a Urologist is not decided by well-set guidelines. The patients present to the Urology outpatients clinics with complications like


Urinary retention


Bladder stone


Renal failure


Hematuria, etc


When is correction of outlet obstruction indicated?
In patients with complications, surgery is essential to correct the obstruction.
In men without any complications, the decision to do depends primarily on the bother caused by his LUTs symptoms and failure of medical management. It is assessed using various scoring systems, the most commonly used being the International Prostate Specific Score(IPSS). Various other factors like the prostate size, nature of the urinary bladder, function of the kidney etc are also considered before considering the surgical options.
What are the surgical options available?
In modern urological practice, open surgery is rarely indicated for outlet obstruction. Removal of the obstructing gland is achieved through the urethral opening.
The first surgery using this method is called the transurethral resection of prostate or TURP in which the prostate is removed as small chips. TURP is done using electric current passed through the resection instrument called the resectoscope. Other option is Holmium LASER enucleation of prostate.
Problems with TURP:


During TURP, the surgical field is continuously washed with distilled water. This has got certain disadvantages. The patient is likely to develop hyponatremia due to decrease in the amount of sodium in the body leading to altered consciousness level after the surgery. It can also cause water overload especially harmful to heart patients. Both of these factors make it unsafe to continue this procedure for long durations. This results in incomplete removal and staged removal common.


Another major disadvantage related to TURP is that it cannot be done safely in patients on blood thinning agents like aspirin. This is because the TURP procedure leaves a large raw area of bleeding tissue after the procedure which is taken care by post-operative irrigation of the surgical site using normal saline. Due to this reason, it is mandatory to stop the blood thinners before TURP putting patients in harm's way.


These problems result in a widespread reluctance among the health care provider to do this procedure in patients with heart disease. In fact, most of the patients for surgery belongs to this group. Unwarranted delay in the treatment of this condition is a common occurrence which leads to unwanted complications, escalated health care cost and suffering to the patient. In this parlance, it is prudent to look for safe and effective options for removal of the prostate gland.
Latest Advanced Laser Treatment
Holmium laser enucleation of prostate leverage the unique advantages of the Holmium wavelength and mode of operation: It is the new gold standard for BPH surgery:
The Holmium Laser Enucleation of prostate fills in this gap. The advantages of the HoLEP procedure includes:


It removes more of the prostate tissue and hence is more effective.


It can be safely used in cardiac patients on Aspirin-like agents without stopping them because of the inherent ability of the LASER energy to seal the bleeding points during the surgery. Postoperatively, it has got no bleeding risk.


It is done using normal saline instead of distilled water thus alleviating the risk of hyponatremia. There is no time limitation while doing HoLEP due to this reason.


The HoLEP procedure is being adopted with a lot of enthusiasm by the Urologist all over the world. A large amount of big data is available about the procedure which has enabled the European Urology Association to put down clear recommendations on the LASER prostatectomy procedure.
While proceeding with the HoLEP surgery it is not essential to stop Aspirin. Inpatient with highest heart-related risk on various more potent medications other than aspirin, the drugs may be stopped for a shorter duration and the patient put on Heparin which has a very short duration of action before doing HoLEP.
Pulse 100H Holmium LASER energy has been used for stone surgeries like retrograde intrarenal surgery, percutaneous nephrolithotomy, ureterorenoscopy, and cystolithoptripsy to remove bladder, ureter and kidney stones. It is also adopted to do urethral stricture surgery and prostate surgery. With wide range of applications, this technology is under continuous scrutiny and research. As technology is being upgraded and perfected by the industry, it is becoming more effective and safe. It goes without saying that HoLEP is an innovation which has changed the treatment of BPH thus elevating patient care to the next level.
Dr Harigovind Pothiyedath, Chief Consultant Urologist, Chairman, MIART, Calicut