Urethritis-Urethral discharge in males-Standard Treatment Guidelines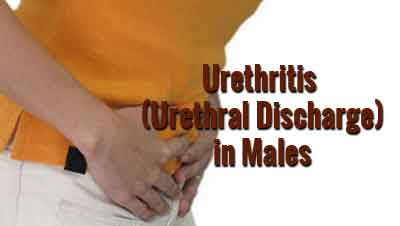 Introduction
Urethritis, manifested by urethral discharge, dysuria, or itching at the end of the urethra, is the response of the urethra to inflammation of any etiology. It is generally due to infection of the urethral mucosa with organisms (predominantly sexually transmitted, few cases nonsexually transmitted). Symptoms, if present, include discharge of mucopurulent or purulent material, dysuria, or urethral pruritus. Asymptomatic infections are also common.
Ministry of Health and Family Welfare, Government of India has issued the Standard Treatment Guidelines for Urethritis (Urethral discharge) in males.
Following are the major recommendations :
Case definition
The characteristic physical finding is urethral discharge, and the pathognomonic confirmatory laboratory finding is an increased number of polymorphonuclear leukocytes (PMNL) on Gram stain of a urethral smear or in the sediment of the first-voided urine.
Causative organisms: Urethritis can be


Gonococcal, or gonorrhea, when Neisseria gonorrhoeae is detected within the PMNL (may frequently be accompanied by chlamydial infections). Gonorrhoea is the second most commonly reported STI.


Nongonococcal if N. gonorrhoeae cannot be detected in the PMNL. The term nongonococcal urethritis (NGU) has many causes and in most cases no pathogen can be detected. These include.
o Chlamydia trachomatis
o Mycoplasma genitaliu
o T. vaginalis
o HSV
o Adenovirus
o Ureaplasma urealyticum
o Enteric bacteria


NGU occurring soon after curative therapy for urethral gonorrhea is called Postgonococcal Urethritis (PGU).
INCIDENCE OF THE CONDITION IN OUR COUNTRY
Among the cases of urethritis presenting to STD clinics, the incidence of gonococcal urethritis is close to 65% and that of Non gonococcal Urethritis (NGU) is 35%. The common organisms causing NGU were chlamydia (28%) ureaplasma (11%) and mycoplasma (11%)[Ref 1].
DIFFERENTIAL DIAGNOSIS
Other causes of urethritis or urethral discharge which may not be sexually transmitted include.


Bacterial urethritis occurring in association with urinary tract infection, bacterial prostatitis, urethral stricture, phimosis, and secondary to catheterization or other instrumentation of the urethra.


Urethritis with congenital abnormalities, chemical irritation, and tumors.


Allergic etiology.


Stevens-Johnson syndrome may produce urethritis.


Complications


NGU among males infected with C. trachomatis include epididymitis and Reiter's syndrome.


GU- The following complications may arise.


Complicated Gonococcal infection:
Involves infection of urinary tract above the anterior urethra


posterior ureththritis, periurethral abscess


infection of Cowper's/ Tyson's glands


urethral stricture


prostatitis, epididymo-orchitis


corneal perforation, blindness


DGI (arthritis-dermatitis syndrome)


Disseminated Gonococcal Infection (DGI)


Petechial or pustular acral skin lesions, asymmetrical arthralgia, tenosynovitis, or septic arthritis.




Complicated occasionally by perihepatitis and rarely by endocarditis or meningitis.


Some strains of N. gonorrhoeae that cause DGI can cause minimal genital inflammation.


PREVENTION AND COUNSELINGGeneral measures as applicable to all patients with suspected STIs


Educate and counsel patient and sex partner(s) regarding RTIs/STIs, genital cancers, safer sex practices and importance of taking complete treatment.


Treat partner(s) for the suspected organisms.


Advise sexual abstinence during the course of treatment to minimize transmission.


Promote the use of barrier contraception like condoms, educate about correct and consistent use.


Refer for voluntary counseling and testing for HIV, Syphilis and Hepatitis B.


Consider immunization against Hepatitis B.


Schedule return visit after 7 days to ensure treatment compliance as well as to see reports of tests done.


If symptoms persist, assess whether it is due to treatment failure or reinfection and advise prompt referral.


OPTIMAL DIAGNOSTIC CRITERIA, INVESTIGATIONS, TREATMENT & REFERRAL CRITERIA
Situation 1: At Secondary Hospital/ Non-Metro situation: Optimal Standards of Treatment in Situations where technology and resources are limited
Clinical Diagnosis
Based on clinical examination of the amount, character and color of discharge.


Urethral discharge should first be objectively documented.


If not visible on initial examination, an attempt should be made to strip or milk the urethra from proximal to distal to elicit the discharge.


If discharge still not detected, the patient should be examined the next morning, after not voiding overnight, to enhance the likelihood of reaching a firm diagnosis.


The
color or character
to be noted.


A yellowish color (most common) or greenish color (seen only occasionally) can be described as "purulent."


A grey or white discharge often mixed with clear fluid should be labeled "mucoid" or "mixed."


The third category is "clear."


The presence or absence of
meatitis
, penile edema and enlarged inguinal lymph node should be determined.
Investigations
To validate the inflammatory nature of urethral discharge and to differentiate between GU and NGU.


Gram stain of urethral secretions demonstrating ≥5 WBC per oil immersion field.


Positive leukocyte esterase test on first-void urine.


Microscopic examination of first-void urine sediment demonstrating ≥10 WBC per high-power field.


Gram stain
, preferred rapid diagnostic test for evaluating urethritis


Highly sensitive and specific in males


Nongonoccocal urethritis (NGU): microscopy indicates inflammation without GNID.


GU- High specificity (>99%) and sensitivity (>95%) for infection with N. gonorrhoeae in symptomatic men.


For complicated GU or DGI


Haematological and Biochemical tests (to rule out systemic involvement)


Echocardiography


TreatmentStandard Operating procedure
As dual infection is common and cannot be ruled out with reasonable certainty, the treatment for urethral discharge should adequately cover therapy for both, gonorrhea and chlamydial infections (Ref 5).


Treatment should be initiated as soon as possible after diagnosis.


Single-dose regimens advantageous: improve compliance, can be directly observed.


Treatment is mostly on an outpatient basis. Only cases with complicated gonococcal infections or disseminated gonococcal infections would require inpatient care.


Outpatient careRecommended regimen for uncomplicated gonorrhea + chlamydia
Uncomplicated infections (disease limited to the anogenital region (anterior urethra or rectum).
- Tab. Cefixime 400 mg orally, single dose Plus
- Tab Azithromycin 1 gram orally single dose under supervision


Advise the patient to follow up after 7 days of start of therapy


To minimize transmission, abstain from sexual intercourse for 7 days after single-dose therapy or until completion of a 7-day regimen.


To minimize reinfection, abstain from sexual intercourse until all sex partners are treated.


All partners in the past 60 days before the initial diagnosis and any interim partners should be referred for evaluation and appropriate treatment.


Alternative drugs


Ceftriaxone (single injection of 250 mg)


Preferred in cases with oral sexual exposure (efficacy in treating pharyngeal infection)


As ofApril 2007, quinolones no longer recommended for the treatment of gonorrhea and associated conditions, such as PID (Ref 6).


Follow upAfter seven days
- To see reports of tests done for HIV, syphilis and Hepatitis B
- If symptoms persist, to assess whether it is due to treatment failure or reinfection
- For prompt referral if required
- Test of cure is not recommended unless therapeutic noncompliance or reinfection is suspected.
When symptoms persist or recur after adequate treatment for gonorrhea and chlamydiaorIf discharge or only dysuria persists after 7 days


Reassess compliance and re-exposure: Retreatment with the initial regimen if not ensured.


Treatment completed but persistent symptoms and no objective signs of urethritis: only urinary alkalinisers, no extension of antimicrobial therapy.


Persistent urethritis (objectively assessed): treat with T. doxycycline (100 mg bd for 7 days)


Persistent urethritis (objectively assessed) after treatment with Doxycycline: might be caused by
o doxycycline-resistant U. urealyticum or M. genitalium- treat with flouroquinolone (Ofloxacin) or macrolides (erythromycin).
o T. vaginalis
o Prostatic infection


Investigate these cases with culture or NAAT (PCR or TMA) on a urethral swab, first void urine or semen.


Recommended regime while awaiting the results.


Recommended Regimens


Metronidazole 2 g orally in a single dose
OR


Tinidazole 2 g orally in a single dose
PLUS


Azithromycin 1 g orally in a single dose (if not used for initial episode).


Index patient and partner(s), should be treated for Trichomonas vaginalis with Tab. Secnidazole 2gm orally, single dose (to treat for T. vaginalis).


Persistence of chronic prostatitis/chronic pelvic pain syndrome


Persistent pain (perineal, penile, or pelvic), discomfort, irritative voiding symptoms, pain during or after ejaculation, or new-onset premature ejaculation lasting for >3 months.


A four-glass test to localize pathogens to the prostate.


Referral to urologist should be considered. Providers should be alert to the possibility of in male patients experiencing.


Alternative treatments for NGU


Erythromycin base 500 mg orally four times a day for 7 days
OR


Erythromycin ethylsuccinate 800 mg orally four times a day for 7 days
OR


Levofloxacin 500 mg orally once daily for 7 days
OR


Ofloxacin 300 mg orally twice a day for 7 days


Syndrome specific guidelines for partner management


Partner management recommended for all males regardless of any specific etiology as substantial number of female partners are affected.


All sex partners within the preceding 60 days should be referred for evaluation, testing, and empiric treatment


Treat female partners on same lines after ruling out pregnancy and history of allergies.


Management of pregnant partner
- Pregnant partners of male clients with urethral discharge should be examined by doing a per speculum as well as per vaginal examination
- Should be treated for gonococcal as well as chlamydial infections (Refer guidelines for cervicitis).
- Cephalosporins to cover gonococcal infection are safe and effective in pregnancy
- Recommended treatment regime.


Tab. Cefixime 400mg orally, single dose
OR


Ceftriaxone 125mg by intramuscular injection
PLUS


Tab. Erythromycin 500mg orally four times a day for seven days
OR


Cap Amoxicillin 500mg orally, three times a day for seven days to cover chlamydial infection.


Special ConsiderationsHIV Infection


Urethritis might facilitate HIV transmission.


Same treatment regimen to be followed.


In Patient care
Required for


few cases of complicated gonococcal urethritis needing intravenous cephalosporins.


disseminated gonococcal infection.


TreatmentFor complicated urethritis or Disseminated Gonococcal infection


Hospitalization is recommended for initial therapy of DGI, especially for patients who might not comply, in whom diagnosis is uncertain, for those who have purulent synovial effusions or other complications.


Examination for clinical evidence of endocarditis and meningitis should be performed.


Persons treated for DGI should be treated presumptively for concurrent C. trachomatis infection.


Complicated / Disseminated infection


Initialtherapy: (Step1)
- Ceftriaxone 1 g IM or IV 24 hourly
- Cefotaxime 1 g IV 8 hourly


Continue for seven days, may switch 24–48 hours after symptoms improve to (Step 2)
- Cefixime 400mg twice daily.




Ceftriaxone 25–50 mg/kg (1gm) IV orIM as a single dose


Cefotaxime 100mg/kg IM as a single dose


Frequent conjunctival irrigation with saline.




Regimen to be continued for 24–48 hours after improvement begins.


Switched to cefixime 400 mg orally twice daily to complete at least 1 week of antimicrobial therapy.


Management of Sex Partners


Partners are frequently asymptomatic


All partners to be treated as per urethritis guidelines


Gonococcal Meningitis and Endocarditis
Recommended Regimen
Ceftriaxone 1–2 g IV every 12 hours
Referral to a higher centre required for cultures, inpatient treatment and monitoring.
Referral criteria
Refer to higher centre


If the symptoms still persists after treatment step 1 and 2 and adequate partner treatment.


Situation 2: At Super Specialty Facility in Metro location where higher-end technology is available
Clinical Diagnosis
As in Situation 1
Investigations


Steps as being followed in Situation 1 above


In addition


Other tests depending on availability:
(not widely available)


Culture for gonococcus and chlamydiae


Nucleic acid hybridization tests and NAATs for detection of genitourinary infection with N. gonorrhoeae.


TreatmentSame as above
for uncomplicated infection of urethra.




Situation


HUMAN RESOURCES


INVESTIGATIONS


DRUGS & CONSUMABLES


EQUIPMENT










1


1 Dermatologist

1Microbiologist

1 Nurse

1 Technician

1 Counselor


Urethral smear for

Gram's stain

First voided urine for

leukocyte esterase

First voided urine for

preparation of urinary

sediment, staining

and examination


Tab. Cefixime 400

mg orally, single

dose

Plus

Tab Azithromycin 1

gram orally single

dose under

supervision


Slides

Disposable

urethral swabs

Gloves

Staining material

Microscope










2


1 Dermatologist

1Microbiologist

1 Intensivist

1 Nurse

1 Technician

1 Counselor


As for situation 1

plus

Culture for

gonococcus and

chlamydiae (if

available)

Specific NAAT


As per situation 1

plus

Injectable

Ceftriaxone or

Cefotaxime


As per situation 1

plus

Paraphernalia for

intensive care




Guidelines by The Ministry of Health and Family Welfare :
Dr. M.K. Daga
Department of Medicine
Maulana Azad Medical College
New Delhi