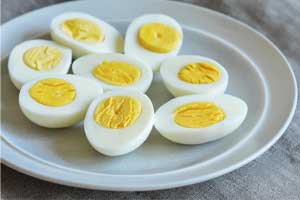 Eating up to 12 eggs per week for a year does not increase cardiovascular risk factors in people with pre-diabetes and type 2 diabetes, a new study suggests. There was also an interesting finding in the study that people on both the high egg and low egg diets lost an equivalent amount of weight when they were put on weight loss diet.
The new research is an extensive study done over a period of one year based on a previous research that found similar results in three months. 
Dr Nick Fuller et.al conducted the research to assess the effects of the high-egg diet compared with the low-egg diet as part of a 3-months weight-loss period, followed by a 6-months follow-up period for a total duration of 12 months.
In the initial trial, participants maintained their weight while taking a high-egg (12 eggs per week) or low-egg (less than two eggs per week) diet, with no difference in cardiovascular risk markers identified at the end of three months.
The same participants were put on a weight loss diet for an additional three months while continuing their high or low egg consumption. For a further six months — up to 12 months in total, participants were followed up by researchers and continued their high or low egg intake.
The study found that at all stages, both groups showed no adverse changes in cardiovascular risk markers and achieved equivalent weight loss regardless of their level of egg consumption.
"Despite differing advice around safe levels of egg consumption for people with pre-diabetes and type 2 diabetes, our research indicates people do not need to hold back from eating eggs if this is part of a healthy diet," Dr Fuller said.
Eggs are a source of protein and micronutrients that help to regulate the intake of fat and carbohydrate. While eggs are rich in cholesterol and people with type 2 diabetes tend to have higher levels of the 'bad' low-density lipoprotein (LDL) cholesterol, this study brings hope to diabetic patients.
According to. Dr Fuller the findings of the study were important due to the potential health benefits of eggs for people with pre-diabetes and type 2 diabetes, as well as the general population.
The study was published in the American Journal of Clinical Nutrition
For more reference log on to: https://doi.org/10.1093/ajcn/nqy048